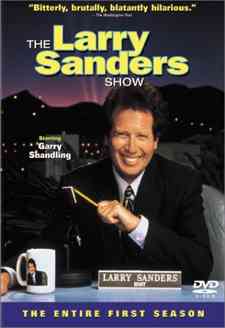 The Larry Sanders Show, the Entire First Season, on DVD
Garry Shandling's Larry Sanders Show was a bitingly-funny look at a fictional late night talk show a la "Tonight Show."
The HBO series featured Shandling as insecure comedian and show host Sanders, backed up by sidekick Hank Kingsley (Jeffrey Tambor) and propped up by Arthur, his producer and confidante (Rip Torn). Around them orbit Larry's wife Jeannie (Megan Gallagher), and show staffers and assorted hangers on played by Penny Johnson, Wallace Langham, Janeane Garofalo, and Jeremy Piven.
This show within a show is a terrific send up of show business and those in it. It's crude and rude, full of coarse language that works because it matches how many people talk in the real world.
Most of the episodes (this disc includes the thirteen that made up season one) focus more on the backstage life than the on camera show itself, which is fortunate and which is where most of the laughs come. The writing is tight and the performances are wonderful; this is one funny series!
Guest stars playing themselves include Carol Burnett, Robin Williams, Dana Carvey, Peter Falk, Mimi Rogers, Billy Crystal, Catherine O'Hara, Richard Simmons, and Bob Saget. They, and the regular cast, appear to be having an excellent time sending up themselves and their industry.
At the heart of the series is the relationship between Larry, Hank and Arthur, a trio whose friendship transcends their daily duties. They love each other despite Hank being a manipulative oaf, Larry's insecure neuroses, and Arthur's sycophantic exterior.
The three DVD set really suffers from a substandard video transfer, however. Despite the package proclaiming that it was mastered in High Definition, on our reference 57" 16x9 digital TV the full screen (4x3 TV compatible) picture ranged from excessively soft to being full of digital artifacts. It never looked acceptably good.
To be fair, it looked much better on our 4x3 TV home theater, but still not up to the DVD standard to which we've become accustomed, especially from Columbia Tristar Home Video.
The audio is Dolby Surround and it's much better than the video.
Extras are pretty well limited to an interesting and quite funny interview with Garry Shandling called "Garry Shandling Talks…'No Flipping'," a reference to Larry's catchphrase at the end of his show-opening monolog where he admonishes his audience not to change channels.
Still, it's the writing and the acting that really shine here, and we can't refrain from recommending this yukfest even though its picture quality sucks.
The Episodes include:
EPISODE 1 "WHAT HAVE YOU DONE FOR ME LATELY", where Larry balks at having to perform live commercials during the show.
EPISODE 2 "PROMISE", in which Larry gets upset when a comic booked for his show shows up first on a rival show.
EPISODE 3 "SPIDERS", a really funny episode in which Larry fights his fear of spiders when a guest is scheduled to bring a Tarantula onto the show.
EPISODE 4 "THE GUEST HOST", in which Larry's insecurities rise to the top when a guest host proves to be a big hit, making Larry extremely nervous.
EPISODE 5 "THE NEW PRODUCER" sees Artie getting paranoid when, forced to take sick leave, he's replaced by a temporary producer who's intent on making his new gig permanent.
EPISODE 6 "THE FLIRT" sees Larry's wife getting upset when show guest Mimi Rogers starts flirting with Larry, and Larry starts flirting back.
EPISODE 7 "HANK'S CONTRACT" features Hank holding out for a raise, and a golf cart, and the network not wanting to cough them up.
EPISODE 8 "OUT OF THE LOOP" has Larry feeling out of touch with the show at large when he discovers he's the last to know that his head writer is having an office affair.
EPISODE 9 "THE TALK SHOW" sees Larry losing his focus on the show after an argument with his wife.
EPISODE 10 "THE PARTY" features Larry as host, when a little dinner with Arthur escalates into a full-blown party that quickly gets out of hand.
EPISODE 11 "WARMTH" sees the show hire a focus group to make it better, but Larry isn't thrilled by what they have to say.
EPISODE 12 "A BRUSH WITH THE ELBOW OF GREATNESS" features Larry getting in high profile trouble with the tabloids after he knocks over a woman in a grocery store.
EPISODE 13 "HEY NOW" sees Hank, stretched due to his outside gigs, falling asleep on the show during the broadcast, much to Larry's chagrin.

The Larry Sanders Show, the Entire First Season, from Columbia Tristar Home Video
322 min. full screen (4x3 TV compatible), Dolby Surround
Starring Garry Sandling, Jeffrey Tambor, Rip Torn
Various writers, directors.