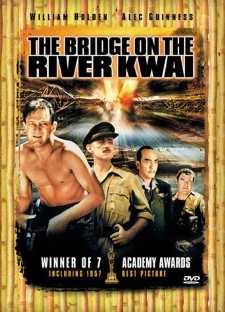 "The Bridge on the River Kwai" and "The Rocky Horror Picture Show" on DVD
Lean, Rocky Horror DVD's True Collector's Items
By Jim Bray
Fans of Sir David Lean and Frank N. Furter have a pre-Christmas treat in store with the DVD releases "The Bridge on the River Kwai" and "The Rocky Horror Picture Show."
Columbia Tristar Home Video's "Bridge" not only gives you the widescreen version of Lean's epic WWII drama, but packs in plenty of bonus features including a twelve page booklet that contains all of the text from the film's original souvenir book.
"The Bridge on the River Kwai," based on the book by Pierre Boulle, stars William Holden, Alec Guinness and Jack Hawkins. It's the seven Oscar-winning story of a group of prisoners of war incarcerated in a Japanese camp and forced to work as slave labor building the now-famous railroad bridge through the Southeast Asian jungle.
Naturally, there's a lot more to it than that and the movie contains all the widescreen beauty for which director Lean was famous on this and other films like "Lawrence of Arabia" and "Dr. Zhivago."
Columbia has done a really nice job with "Bridgde." The film has been restored and the digitally mastered DVD video and Dolby Digital audio are excellent, mostly. A few early shots don't look so great, but those are the exception rather than the rule.
Extras on the main disc include an isolated audio track featuring only the musical score and some DVD ROM components, like maps and military strategy hints and some screensavers that exploit original movie art.
The second DVD has a documentary, an original featurette, a short film from USC (introduced by William Holden) and a glowing appreciation by filmmaker John Milius. You also get a photo gallery, trailers, and talent files.
The DVD package looks and feels like a hardcover book, so it should last.
It's one heck of a package.
From the sublime to the ridiculous, 20th Century Fox has also unleashed a deluxe collectors DVD of the 1970's cult "classic" "The Rocky Horror Picture Show."
This movie version of the stage musical stars Tim Curry, Barry Bostwick and Susan Sarandon, among others.
This THX-mastered widescreen DVD looks spectacular – far better than the material actually warrants. The audio during the songs is excellent, though it's spotty during the dialogue scenes, and the whole package includes extras guaranteed to keep you chuckling – or chucking.
For instance, you can active a special subtitle track that prompts you when to "misbehave" as if you were at a midnight showing – complete with a warning that "flying hot dogs may have adverse effects on expensive home theater equipment."
There's also a feature that takes you into an actual movie theater populated by just the kind of audience that made "RHPS" the success it was. This audience hollers its participatory hearts out from the rear speakers, which means it pays to know the film's dialog: there are many times when the din from the peanut gallery prevents you from making out what's coming from the movie itself.
These fans aren't even listening to what's happening on screen – they just holler out to beat the band. And you should hear what they keep calling Bostwick's "Brad" character!
Another setting lets you jump right out of the movie and right into the movie theater where all these loonies are jumping to the left, putting their hands on their hips, and generally doing their fan club thing. I've never been to one of these midnight presentations, but it appears that I may have missed a pretty bizarre night out.
You also get an audio commentary track by writer/actor Richard O'Brien and "Magenta" actress Patricia Quinn.
By the time you've Time Warped through everything on the disc you'll either be ready to run screaming from the home theater, or be primed to slide in the second, bonus disc that comes in the package.
This one is more of a Rocky Horror tribute disc, and contains stuff from VH-1's "Behind the Music" series, including interviews with Bostwick, Sarandon, O'Brien, Quinn and Meatloaf. There's also a "Pop Up Video" of the song "Hot Patootie" and a "Rocky Horror" Double Feature video show
I can grudgingly see why Fox would put such unbelievable care into "RHPS" (something to do with profitability, I believe), though I wouldn't have thought the source material was worth it. To each his own.
It would make one heckuva party disc, though!