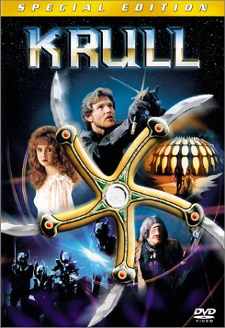 "Krull" on DVD
Sci Fi Fantasy
Perhaps the best, though not the kindest, way to describe Krull is to say the makers should have left the "r" out of the title.
Krull was Columbia Pictures' entry into the "let's make a big budget special effects epic" frenzy that followed the success of films like "Star Wars" and "Superman." Unfortunately, it suffers from a severe lack of pacing, and a bevy of not-too-memorable performances.
Krull is a planet under conquested by "the Beast." He inhabits a dark castle that magically changes location every morning, which makes him particularly hard to track down. His havoc reaches an all time high at the wedding of Prince Colwyn (Ken Marshall) and Princess Liza (Lysette Anthony), as his evil minions kill just about everyone on hand and make off with the princess.
Colwyn, now King, sets out on a quest to find and save his love. Along the way he assembles the usual ragtag band of followers (in this case a wise man, a bunch of criminals, a looney magician, a kid, and a particularly phony-looking Cyclops.
The best performances come from Freddy Jones, as the wise man, Anthony as the princess (though she's basically set decoration), and you may be interested to see a young Liam Neeson as one of the ragtag soldiers.
The locations are beautiful, the production values are good as well. Special effects and interesting sets abound. In short, the film has all the ingredients, yet it leaves you feeling hungry nonetheless.
Still, if you like science fiction and fantasy, it's worth seeing at least once.
The DVD is presented in digitally mastered anamorphic widescreen (16x9 compatible) with Dolby digital 5.1 audio. Picture and sound quality are good, but not great. The musical score is overpowering at times, as well.
There are plenty of extras on hand to sweeten the deal. You get a gang commentary track with the director, stars, and editor, a behind the scenes commentary, a Marvel Comics video adaptation of the film, an original "making of" featurette, four photo galleries, trailers, talent files, and production notes.
The extras are nice, but they don't make up for the basic barrenness of the film.
Krull, from Columbia Tristar Home Video
121 min. widescreen (2.35:1) 16x9 compatible, Dolby Digital 5.1
Starring Ken Marshall, Lysette Anthony, Freddie Jones and Francesca Annis
Produced by Ron Silverman
Written by Stanford Sherman, Directed by Peter Yates.