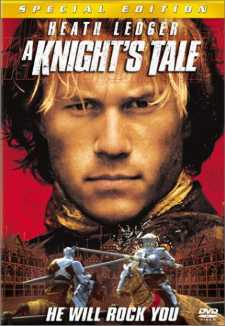 A Knight's Tale
Surely You Joust?
A Knight's Tale is basically just one big cliché. It starts, develops, and ends with classic Hollywood clichés. That isn't to say that's necessarily a bad thing.
It starts off with some peasants trying to wake up their master, who is a well-known jouster. After he doesn't wake up, they realize he's dead, and William Thatcher (Heath Ledger) takes it upon himself to pretend to be their master in a joust.
Fortunately, their master is already ahead by three points, so all William has to do is stay on the horse. This is especially fortunate, considering he really, really sucks. After they win some money for winning the match, William decides he wants to become a full-time knight so they can win a lot more. The only problem is that in order to joust, you have to be of noble descent.
So William takes on a new identity. He goes from being peasant William Thatcher, to being Sir Ulric Von Lichtenstein. However, it is highly illegal to pose as a nobleman. So of course, we all know what happens later on in the film. But we'll let that go, since the movie is just so much fun.
Brian Helgeland (Payback, screenwriter of L.A. Confidential), wrote and directed the film, obviously wanting to try a new approach to an old story. The movie is chock full of classic rock songs, which seem horribly out of place at first, but slowly grow on you. A prime example is during the opening credits, when Queen's We Will Rock You is playing. It wouldn't normally be so bad, except that the crowd is tapping and singing along.
Heath Ledger trades in his Australian accent for a British one, and proves he has what it takes to be a star. The supporting cast is equally exceptional, but Paul Bettany steals every scene as the herald Chaucer. Among the cast are familiar faces Mark Addy and Rufus Sewell, as well as newcomer Shannyn Sossamon.
A Knight's Tale, though clichéd and boring at times, is still a fun movie overall. There's plenty of action, romance, comedy, and everything else you need to be satisfied. Definitely not a classic, but it's definitely worth a watch.
The DVD is top notch. The 1.85:1 anamorphic widescreen and 5.1 Dolby Digital are well used, and couldn't get much better. The multitude of extras include a commentary by Brian Helgeland and Paul Bettany, the HBO "Making-of" special, 11 behind-the-scenes featurettes (most are shorter than three minutes), deleted scenes with optional commentary, a music video, theatrical trailers, filmographies, production notes, and a 3-D screensaver via DVD-Rom.
If you're a fan of the film, the DVD is definitely worth buying.
A Knight's Tale, from Columbia Tristar Home Entertainment
132 minutes, anamorphic widescreen (1.85:1) 16X9 enhanced, 5.1 Dolby Digital
Starring Heath Ledger, Mark Addy, Rufus Sewell and Paul Bettany
Produced by Tim Van Rellim and Todd Black
Produced, Written and Directed by Brian Helgeland