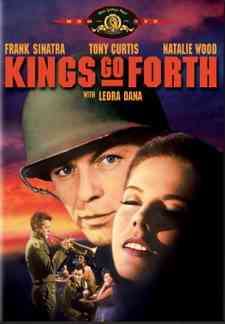 Kings Go Forth on DVD
This World War II drama is about honor, character, integrity, and true love, which may make you want to run away from it at the rental counter - but don't.
And while it starts slowly, it draws you into its story of a love triangle with adult social overtones and you end up enthralled with what turns out to be an excellent and intelligent drama.
Frank Sinatra is Sam Loggins, a new Lieutenant commanding his troops in Southern France. He's your "everyman" who had to fight for everything he ever got. Tony Curtis is Britt Harris, the rich kid who goes through life as if it were set to music, whose looks and charm take him to the top, but whose character flaws threaten to bring him back down again.
Natalie Wood shines as Monique Blair, a French girl of American heritage who has a dark secret that has a major effect on Sam and Britt.
Sam, Britt and their comrades at arms unwind from their action (or lack of action at times) by heading for Nice on the French Riviera, a resort town happy to be liberated and welcoming the Americans with open arms.
While on leave in Nice, Sam meets Monique and falls deeply in love with her - so much in love that he'll even give her up if it makes her happy. Then he introduces her to Britt who sweeps her off her feet. She falls in love with him and they're to marry as soon as Britt gets permission from the army.
The love triangle, not surprisingly, spoils the relationship between Sam and Britt, though not for the reasons you might expect - so much so that Sam vows he'll kill Britt once a commando mission they go on is over.
Kings Go Forth is an intelligent and moving film and the three stars are extremely well cast in their roles. Sinatra is particularly good as a decent man whose strength of character demands certain actions from him. Curtis isn't as stretched as Sinatra is, performing basically a "pretty boy" role - and Wood is wonderful as the French American girl who wants to love but is afraid to.
Unfortunately, the DVD isn't up to the standards we've come to expect from the medium. The full frame (original aspect ratio - not widescreen compatible, so you have to zoom or stretch the picture if you have a 16x9 aspect ratio television) black and white picture suffers from many artifacts early in the film, though they seem to go away by the time you're half way through. This isn't what you want in a DVD and, since we're video snobs, it got in the way of oour enjoyment.
The audio is Dolby Digital mono and the sound quality is about what you'd expect from a movie of this vintage.
Extras are limited to the original theatrical trailer in which Sinatra appears as host, flogging the film.
Despite the video flaws, however, Kings Go Forth is definitely a film worth seeing.
Kings Go Forth, from MGM Home Video
110 min. full screen (1.33:1), not 16x9 TV compatible, Dolby Digital Mono
Starring Frank Sinatra, Tony Curtis, Natalie Wood, Leora Dana
Produced by Frank Ross
Written by Merle Miller, Directed by Delmer Daves