John Wayne Westerns on DVD
The Comancheros
North to Alaska
The War Wagon
McLintock!
Hondo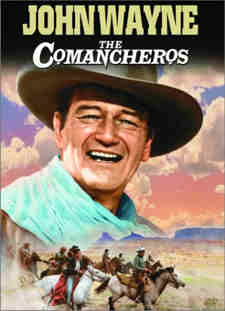 Director Michael Curtiz made some great films during his day, from Casablanca to White Christmas, and his cinematic swan song is also a great yarn.
John Wayne stars as Texas Ranger Capt. Jake Cutter, sent to bring in a New Orleans dandy who, in a duel, killed a judge's son. Paul Regret (Stuart Whitman) isn't a bad guy, but he does seem to invite trouble and trouble seems to think that's just fine.
But while Regret and Cutter start out as adversaries, the twists and turns of the plot conspire to make them compatriots and comrades in arms in a story that sees the Texas Rangers going after a mafia-like organized crime group called, not surprisingly, The Comancheros. These guys have built their own "civilization" in the boonies and live their to their own code under the leadership of a guy named Graile (Nehemiah Persoff), whose daughter (Ina Balin) just happens to be the woman with whom Regret is in love.
This flick has it all: great action sequences, an excellent script, good performances, even a rousing score by Elmer Bernstein. Wayne is good as Cutter and Whitman also turns in a good performance as Regret. The supporting cast is first rate as well and includes such stalwarts as Lee Marvin, Bruce Cabot, Patrick Wayne, Michael Ansara and Jack Elam.
The screenplay not only piles on the action, but there's a good amount of fun stuff, too, including a gun runner under arrest whose explanation must be heard to be appreciated.
The DVD is very good. Fox has released it with anamorphic widescreen video, 16x9 TV compatible, and the picture quality is bright and sharp and colorful. Audio is Dolby Digital 4.0 surround and though there isn't a lot of surround the front three channels are used very well - and Bernstein's score shines.
Extras include a MovieTone news featurette and the trailer.
The Comancheros, from 20th Century Fox Home Video
107 min. anamorphic widescreen (2.35:1), 16x9 TV compatible, Dolby Digital 4.0
Starring John Wayne, Stuart Whitman, Ina Balin, Nehemiah Persoff, Lee Marvin
Produced by George Sherman,
Written by James Edward Grant and Clair Huffaker, Directed by Michael Curtiz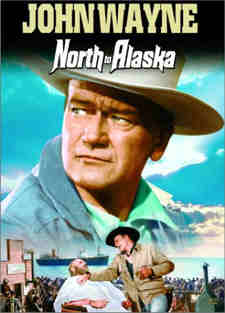 A change of pace for the Duke, North to Alaska sees him not as a cowboy or war hero, but as a gold prospector sent to Seattle by his partner in order to pick up his bride-to-be and bring her back while the partner guards their lucrative gold mine.
Wayne is Sam McCord, a giant of a man, but a pussycat at heart. He and partner George Pratt (Stewart Granger) and George's kid brother Billy (Fabian) have struck it rich and George thinks it's time to bring his beloved Jenny North to Alaska so he can marry her.
So Sam heads south, only to find that Jenny has gone and gotten herself married (and undoubtedly kicks herself for the rest of her life for having let a rich husband get away). Sam wants to spare George's feelings, though, and he discovers another French woman, who he calls Angel (Capucine), working in a bordello there. He offers her a chance to sail north and be introduced to George and, looking at the opportunity for adventure - and maybe gold - she accepts.
The only problem is that while Sam is returning to Alaska with Angel, both of them are falling in love with each other. But that can't be, 'cause Sam's duty was to bring back a woman for George. So they both go through with the mission and you'll have to watch the movie to see how it ends.
Add to the mix a nogoodnik (Ernie Kovacs) who wants to get his hands on the gold mine, and you have a recipe for mayhem, action, and plenty of broad comedy.
The DVD is very good. It's presented in anamorphic widescreen, 16x9 TV compatible, and the picture is nice and clean, sharp, and colorful. Audio is Dolby Digital 4.0 surround and it's also fine, though don't expect your surround channels to get much of a workout.
Extras include the theatrical trailer, a Movietone newsreel on the film's premier, and a couple of bonus trailers.
North to Alaska, from 20th Century Fox Home Video
122 min. anamorphic widescreen (2.35:1), 16x9 TV compatible, Dolby Digital 4.0 audio
Starring John Wayne, Stewart Granger, Capucine, Ernie Kovacs, Fabian
Written by John Lee Mahin, Martin Rackin and Claude Binyon
Produced and directed by Henry Hathaway
Also new on DVD from Fox are the Wayne films The Undefeated (anamorphic widescreen, 2.35:1, Dolby Digital mono) and The Big Trail (full frame 1.33:1, Dolby Digital mono).
Okay, this won't go down in history as one of the best westerns ever made, but that doesn't mean it's a stinker either.
John Wayne is Taw Jackson, recently paroled for good behavior who returns to his old haunts to get back at the unscrupulous cattle baron Frank Pierce (Bruce Cabot) who done him wrong and had him put away.
Taw has a scheme to rob the bad guy's War Wagon, a tank-like stagecoach in which Pierce carries the gold he takes from the mine he stole from him. He can't do it alone, though; the wagon is not only an armored fortress on wheels but it's accompanied by a small army of Pierce's people of hench. So he enlists a safe cracker/gunslinger named Lomax (Kirk Douglas), Indian friend Levi Walking Bear (Howard Keel), a strange whacko (Keenan Wynn) and a drunken explosives expert (Robert Walker) to help him.
It's a veteran cast and a fairly lighthearted story that features plenty of action and some nice locations. And in an interesting bit of writing, we have Douglas' character playing both ends against the middle as he's hired by Pierce to kill Jackson, while partnering with Jackson to rob Pierce.
The chemistry between Wayne and Douglas really works though, as you can see by the supplementary material, the two had some serious disagreements behind the cameras (most of which had nothing to do with the movie itself but stemmed more from Wayne's conservatism and Douglas' liberalism). It's a pretty smart script, well directed and featuring another great Dimitri Tiomkin musical score.
The DVD, on the other hand, really falls down seriously. Read the back, on the table where Universal includes the disc's technical information, and you'll see that it's presented in widescreen. And it is, but what's unforgivable is that it isn't ANAMORPHIC widescreen! So while you do get the entire image from side to side on your screen, it doesn't expand to fit the 16x9 television and that means owners of such TV's will have to zoom the picture to fit the screen and this cuts way, way down on the resolution.
The result is a very pixilized picture that, while the colors are still rich and deep, gives you jagged edges and makes it seem almost as if you're watching the film through a screen door.
This is unforgivable in this day and age of home theater.
Audio is Dolby Digital 2 channel mono and, not surprisingly, is unremarkable.
For extras, you get some production notes, cast/filmmaker bios, film highlights, and the theatrical trailer.
The War Wagon, from Unversal Home Video
101 min. widescreen letterboxed (not 16x9 TV compatible), Dolby Digital 2.0 channel mono
Starring John Wayne, Kirk Douglas, Howard Keel, Robert Walker, Keenan Wynn, Bruce Cabot
Produced by Marvin Schwartz
Written by Clair Huffaker, Directed by Burt Kennedy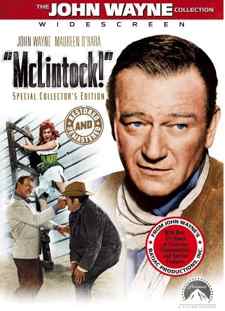 McLintock and Hondo on DVD
Big, brawlin' and boozin' is the formula in this loose adaptation of Shakespeare's Taming of the Shrew.
Wayne stars in the title role. He owns just about everything within shooting distance of the movie, but despite being a patriot and a successful capitalist, he's still a right decent guy.
Then home comes Kate, er Katherine (Maureen O'Hara, who as always is great), George Washington McLintock's estranged wife who's come home ahead of their daughter's (Stefanie Powers) return from school. She wants a divorce, but we know it isn't going to happen.
Sparks fly, fights ensue – and not just between McLintock and Kate, but between all sorts of characters. In the end the lovebird resume their lives of bliss and hiss together and all is well.
There's nothing about McLintock you haven't seen before, but it doesn't take itself too seriously either and so you end up enjoying this cast party on film. The cast is obviously enjoying itself and if no one is really stretching themselves it's okay this time. But don't make a habit of it.
McLintock also stars Patrick Wayne, Jack Kruschen, Chill Wills, Yvonne De Carlo, Jerry Van Dyke, Edgar Buchanan, Bruce Cabot, Perry Lopez and Strother Martin.
In Hondo things are much more serious, and while not as much fun as McLintock it's a better movie. Wayne is Hondo Lane, a part Apache who seems to have been everywhere and done everything.
The love interest this time is Geraldine Page, who is excellent as the unhappy but loyal wife who falls for Hondo almost in spite of herself. But any possible happiness they may have together is threatened by the clash of civilizations white and red and both of them have deep connections to both sides.
Hondo is a rich and intelligent story that shows the light and dark in all of us; there are decent white and Indian people, but different people have different views of honor and duty.
Also on hand in Hondo are Ward Bond, Michael Pate, and James Arness.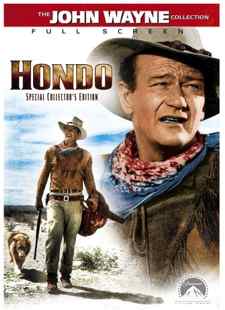 Both movies look very good on DVD. McLintock is presented in anamorphic widescreen, 16x9 TV compatible; Hondo is 1.33:1 full frame. Audio is offered in remixed 5.1 versions, supposedly. We didn't notice a lot of surround in McLintock, though there was noticeable surround use in Hondo.
Each DVD comes packed with extras, too, including a nice introduction by Leonard Maltin.
Dunno why they bother with the menu item for Leonard Maltin's introduction, 'cause when you press "Play Movie" you get it anyway. Fortunately, you can jump ahead to skip it if you've already seen it.
Both movies also have commentary tracks, "making of" features, BATJAC (Wayne's production company) featurettes, photo galleries, teaser and trailers and more. They're pretty good packages and it's nice to see the Duke being given his due.
McLintock, from Paramount Home Entertainment
127 min. anamorphic widescreen (2.35:1, 16x9 TV compatible), Dolby Digital 5.1 surround
Starring John Wayne, Maureen O'Hara
Produced by Michael Wayne
Written by James Edward Grant, directed by Andrew V. McLaglen
Hondo, from Paramount Home Entertainment
83 min. full frame (1.33:1, not 16x9 TV compatible), Dolby Digital 5.1 surround
Starring John Wayne, Geradline Page
Produced by Robert Fellows
Written by James Edward Grant, directed by John Farrow