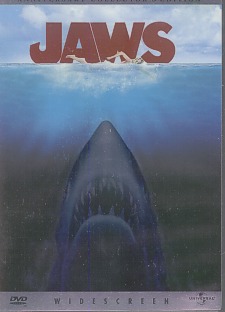 "Jaws" on DVD
25th Anniversary Edition
Just when you thought it was safe to go into the video store…
It's hard to believe that "Jaws" is twenty-five years old now. How time flies when you're having fun!
"Jaws," for those of you who've been living under a rock, was the movie that made Steven Spielberg a star. It was the director's second theatrical film (after "The Sugarland Express") and despite a lot of birth pangs and studio angst, it went on to become the biggest movie of its time.
Set in the New England island community of Amity, the movie stars Roy Scheider, Richard Dreyfuss and Robert Shaw as the intrepid trio whose task it is to hunt down and destroy a gigantic Great White Shark that has been munching on swimmers and generally wreaking havoc on the town's tourist season.
Spielberg et al did a terrific job of turning the mindless eating machine into something almost supernatural in its relentless pursuit of tasty tidbits - and John Williams' marvelous score doesn't hurt, either.
The stars' performances are very good, especially Shaw as the crusty old fart of a shark hunter who, we learn later, has a history with the beasts that colors his present day actions. The supporting cast, led by Lorraine Gary and Murray Hamilton, also turn in credible work.
The star is really the shark, of course, and Spielberg plays it for all it's worth - and it works very well.
The movie has aged gracefully, and is as fun an experience today as it was a quarter century ago.
The widescreen DVD has been digitally remastered and, though the picture's a tad soft, it looks very good. The audio - at least as far as the dialogue and sound effects are concerned - is only okay, but Williams' musical score is positively glorious. We don't know if the music was redone for the DVD reissue, but it certainly sounds as if it has been.
Extras abound, too. There's a "full length" documentary on the making of the film, and it's terrific. You also get a couple of deleted scenes and outtakes (though the outtakes are pretty lame), a trivia game, production notes/storyboards, trailers.
There's even a Jaws screen saver.
The documentary is really a "must see," for movie fans. It clearly shows just how difficult it was to get "Jaws" made - and how it very nearly didn't happen.
Jaws, from Univeral Home Video
125 minutes, Widescreen (2.35:1), Dolby Digital
Starring Roy Scheider, Richard Dreyfuss, Robert Shaw
Produced by Richard D. Zanuck and David Brown
Written by Peter Benchley and Carl Gottlief, Directed by Steven Spielberg