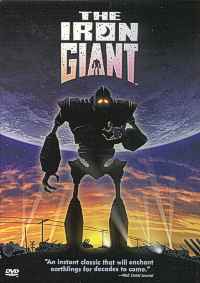 "The Iron Giant" on DVD
Man of Steel, Heart of Gold
by Jim Bray
Warner Brothers' "The Iron Giant" is a marvelous movie, one of those special films that are all too rare.
The film is the animated retelling of Ted Hughes' "The Iron Man," the tale of a young boy who finds and befriends a giant robot. Set in 1957, at the height of the Cold War, it's a time of fear of the outside, and this huge metal creature is from farther outside than anyone could imagine - so the grown-ups imagine it's a Soviet threat or something equally dangerous and decide it must be destroyed.
Young Hogarth Hughes knows better, however. He's made friends with the Iron Giant and knows its heart is pure and gentle and that it only wants good things to happen.
Voiced by Vin Diesel, the Iron Man is indeed a gentle soul. He eats metal to survive and is a huge and imposing figure, but the only threat he poses is when he himself (or it itself) is threatened. Other voice talent, which is wonderfully cast, includes Eli Marienthal as Hogarth, Jennifer Aniston as his mother, with Harry Connick Jr., Christopher McDonald and John Mahoney in supporting roles.
There are some terrific moments in "The Iron Giant," including the scenes where the robot takes a dip with Hogarth in a local lake and when he decides he can fly like Superman - and when he takes his fate into his humongous hands it's hard not to be moved, even though it's "only a cartoon."
"The Iron Giant" was directed by Brad Bird, who made his name on such TV ani-coms as "The Simpsons" and "Family Dog," and this was obviously a labor of love. The executive producer is listed as Pete Townshend of The Who, whose 1989 album "The Iron Man" was based on the same story. As a diehard Townshend/Who fan, I was disappointed that the movie didn't use his music - but must also say that Michael Kamen's score is just fine on its own.
The look is terrific, the animation quality is first rate, and the screenplay will appeal equally to the young and the not so young.
The DVD is in widescreen and pan/scan on opposite sides, with Dolby Digital 5.1 surround sound. Picture and sound quality are wonderful. Extras include a "making of" promotional feature that aired on the WB Network prior to the film's theatrical release. A music video from the film, Eddie Platt's "Cha-Hua-Hua," is also thrown in.
There's also a "PC Friendly" DVD ROM component that offers more in depth information than you can get from the average set of liner notes. It includes print sections on the making of the film, cast/crew, and a "Shockwave-enhanced" game in which you have to put together the Iron Giant yourself. There's even a selection of movie posters and assorted "cool junk" including a screensaver you can install on your PC.
In all, it's a pretty neat package with a lot of extras, but it's "The Iron Giant" movie itself that's the real star of this package. The liner notes refer to it as "an instant classic" and for once this isn't just hype. "The Iron Giant" is a wonderful movie and we hope to see more such efforts from Mr. Bird and the Warner Brothers studio.
The Iron Giant, from Warner Home Video
approx. 87 minutes, Widescreen (2.35:1)/Pan and Scan, Dolby Digital 5.1
Starring the voices of Eli Marienthal, Vin Diesel, Jennifer Aniston, Harry Connick Jr., Christopher McDonald
Executive Producer Pete Townshend, Produced by Des McAnuff, Written by Tim McCanlies
Directed by Brad Bird