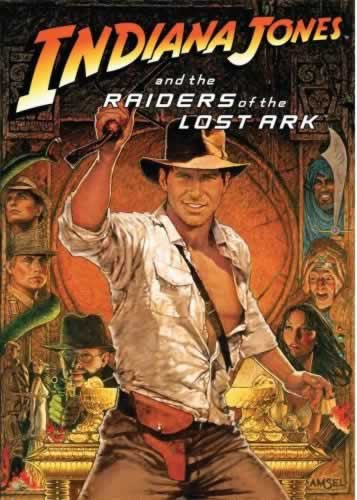 The Indiana Jones Trilogy on DVD
By Jim Bray
Just in time to cash in on - and promote - Indiana Jones and the Kingdom of the Crystal Skull, Paramount Pictures has released the original Indy films.
Have they remastered them for better picture quality? Have they offered us Blu-ray versions, finally, so we can watch these action/adventure classics the best way possible in a modern home theater?
Nah. Instead, we can now choose which movies to buy because they're finally offered separately instead of only in a boxed set (which I imagine will limit the sales of Temple of Doom somewhat) - and to sweeten the deal they've included some new extras and some compelling teaser material for Indy IV, premiering "only in theaters" (and illegal downloads) in late May 2008.
Not that taking another trip to the well is unique for Paramount or any other studio. In fact, Paramount has been rather restrained in its Indy dipping, especially when you compare the different Star Trek incarnations available. And I'm glad to see the movies available separately at last; the boxed set's fourth disc, which was full of nifty material I'm glad to have, is really gravy and it's easy to live without because it's the movies that are important and at least two of them belong in the home theaters of every fan of the genre.
As everyone knows by now, the Indiana Jones trilogy (plus one, imminently) is the George Lucas/Steven Spielberg collaboration that brought us Harrison Ford as the intrepid archaeologist/man of action whose globetrotting adventures pitted him against evil Nazis and evil Thuggees as he searched for important antiquities with powerful magical capabilities that allow for some nifty special effects sequences.
The first film, Raiders of the Lost Ark is, as is often the case, the best of the bunch so far. The 1981 release sees Indy racing the Nazis for possession of the Ark of the Covenant, through a series of fabulous adventures and cliffhangers that keep you glued to your seat.
Raiders was a groundbreaking film, an "A movie" production of the old "B movie" serials of Hollywood's "Golden age" - even more so than Lucas' Star Wars, which was more a modern, high tech version of the classic fairy tale than a Flash Gordon-type story. It was a thrilling cinematic ride made with state of the art technology that, rather than looking hokey like the old serials and "B movies" often did, drew us into the story and boggled our eyes and ears.
Even the casting was sublime: Harrison Ford makes a terrific Indiana Jones. Tom Selleck had been cast originally, and would probably have been excellent, but it's hard to imagine anyone but Ford wearing that beaten up fedora and carrying the bullwhip. Karen Allen, as Marion Ravenwood, was more than a love interest; like Princess Leia, she was no shrinking violet damsel in distress but rather a two fisted heroine in her own right, a great foil to Indy.
The casting of Denholm Elliott and John Rhys Davies was inspired and even Ronald Lacey and the rest of the bad guys were played deliciously.
And I can't not mention the brilliant John Williams, whose score and Indy Theme became part of Pop classics the same way his Star Wars and so many other compositions did.
It was a whole that exceeded the sum of its parts, a modern classic and an homage to Hollywood's past all in one.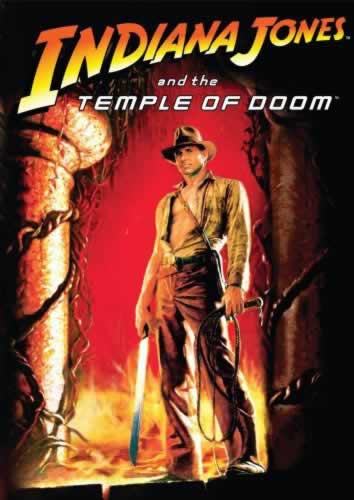 Which makes it all the more disappointing to see Indiana Jones and the Temple of Doom, which seemed determined to throw away everything that worked in Raiders (except for Ford, Williams and the special effects) and which (according to the disc's supplements) fared not nearly as well at the box office.
Doom sees Indy accompanied by a cute and precocious kid (Ke Huy Quan) and one of the most annoying women ever seen (or, more precisely, heard) on the screen: Willy Scott, played by the decorative but shrill Kate Capshaw. To be fair, Capshaw was only following the script and, as with so many other film failures, it's the script that's to blame here.
It's a much darker film than Raiders, deliberately and understandably so, but while Raiders was a rip snortin' adventure, Doom was smaller in scope, creepier for creepiness' sake (not that there's necessarily anything wrong with creepiness) and much more serious in its tone.
Even some of the stunts that, no matter how outrageous, worked in Raiders, here often pushed me beyond my suspension of disbelief (the overblown exit from the airplane near the beginning, for example).
Fortunately, the mine chase sequence is nearly worth the price of admission!
The magic returned in Indiana Jones and the Last Crusade, not only because we get to see Sallah and Marcus Brody (Rhys-Davies and Elliott) again, but because we're once again given a larger than life situation with Indy fighting the Nazi forces as they continue their quest for world domination. We also get to see Indy as a kid, even to learning how he got that scar on Harrison Ford's chin.
But the most famous addition to the Indy legend was his father, Henry Jones Senior, played to perfection by Sean Connery, whose role is 180 degrees from the ones that made him famous. The chemistry between Connery and Ford, who are actually only 12 years apart in age, is the stuff of movie legend and elevates Crusade to nearly the heights of Raiders.
Definitely, the first and third installments are must owns - which, again, makes it handy that Paramount now offers the movies individually. If it were my money I'd get Doom anyway, because I'd want the whole saga (I'll undoubtedly get Skull, too, even if it sucks), but if you're looking for bang for your buck, it isn't hard to skip the middle episode of the trilogy.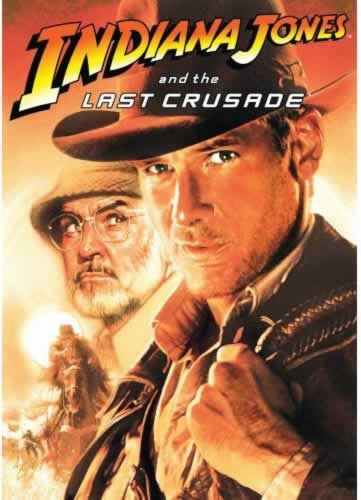 So how do the DVD's stack up as DVD's? Very well, but once again I'm flummoxed by the fact that Paramount continues to resist a return to Blu-ray. Maybe they're planning a deluxe Blu-ray boxed set of all four films just in time for Christmas, 2008, but if so I've heard nothing.
And if they are planning that, why would anyone in his right mind who's thinking of moving to (or who has already moved to) the Blu-ray format shell out hard earned after tax dollars for these DVD's?
The DVD's appear to be straightforward reissues of the original transfers, which were THX-certified to begin with and offer audio and video that's very good.
Video is presented in anamorphic widescreen, 2.35:1, and the picture we watched up converted to 1080p on our 106 Da-Lite screen was bright and colorful, and pretty clean - though there's also some edge enhancement in evidence.
Audio is Dolby Digital 5.1 and it's very good as well, with delicious use of the surrounds and the subwoofer.
I can't wait to review the Blu-ray versions and hope Paramount gives them the attention they deserve.
The DVD's don't come with the extras available originally on the fourth disc of the boxed set, but there's some pretty good stuff nonetheless. Each disc features an "introduction" by George Lucas and Steven Spielberg, though they're more edited separate interviews than an introduction per se. But they're interesting and candid and quite enjoyable.
Each film also includes a look at some storyboards from pivotal scenes, such as the Well of Souls in Raiders and the Mine Chase from Doom.  There's also a set of present day interviews with cast and/or crew, some of which offer tantalizing glimpses into what's in store in Indy IV, as well as some behind the scenes documentaries about facets of the original productions (the melting face from Raiders, for example, and a look at the locations used in the movies).
You also get a photo gallery with each disc and a commercial for LEGO Indiana Jones - and a link to where you can download a demo of this upcoming computer game title.
Bottom line? If you already bought the boxed set, it's easy to pass by these versions unless you want to own/rent them for the supplements. If you haven't bought the boxed set and have no intention of moving to Blu-ray in the foreseeable future, this is a good choice of titles.
But if you've moved to Blu-ray or plan to before long, I'd recommend holding off for the inevitable Blu-ray release which, if Paramount does it properly, should be a spectacular experience in your home theater.
The Indiana Jones Trilogy, from Paramount Home Entertainment (sold separately)
anamorphic widescreen (2.35:1), 16x9 TV enhanced, Dolby Digital 5.1 surround
Starring Harrison Ford, Karen Allen, Denholm Elliott, John Rhys-Davies, Ronald Lacey, Kate Capshaw, Ke Huy Quan, Amrish Puri, Sean Connery, Julian Glover, Alison Doody,
Directed by Steven Spielberg