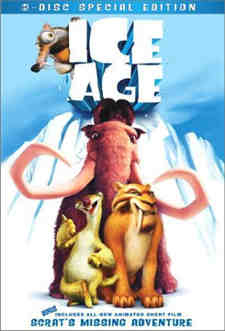 Ice Age on DVD
It's never hard to tell when a studio has the title for the movie picked out before they have the idea.
Ice Age takes place mostly in green surroundings, but occasionally our protagonists venture into colder, snowier territory. They should have called the movie "Summertime in Canada."
Ice Age seems to be Fox's attempt at cashing in on the success of recent computer-animated films, rather than a breakthrough computer animated adventure. The characters, story, and jokes are all standard Disney, only not as well done. In fact, Ice Age appears to be a blatant rip-off of Dinosaur, only set later in time. Even the animation seems like it was done by Walt Disney's less talented cousin. (Ed: it reminded me of a Rankin/Bass cartoon done in CG)
A sloth, woolly mammoth, and sabre-toothed tiger all go on a journey to reunite a human baby with its human family. Along the way, they encounter various obstacles (such as ice), and in the end they all live happily ever after. There's also a little creature of some kind who is always losing his acorn; but it seems more of a way of reaching 81 minutes than actual comedy relief.
John Leguizamo, Ray Romano and Denis Leary lend their voice talents to the movie, and they seem to be well cast. Unfortunately, a movie needs more than voices to make it thoroughly engrossing.
To put it mildly, Ice Age is like a subpar Disney movie. But in its defense, even subpar Disney movies are tolerable. It's not memorable like some of the great Disney animated features, but at less than an hour and a half it's a good time waster.
Ice Age was the biggest hit of the year. That is, until Spider-Man, Star Wars, Men in Black II, Goldmember, Signs, and My Big Fat Greek Wedding came along; hmm…it sounds much less impressive at this point in the year. But nonetheless, being such a big hit, it's no surprise that Fox has awarded it with a very nice special edition.
This 2-disc set includes both widescreen and Pan&Scan versions of the film, and the picture quality is excellent. Computer animated movies always seem to have great picture quality, undoubtedly because they can remain digital from the beginning to the end of the mastering process. All the colors are bright, there's no trace of grain, and even the vast white backgrounds don't drown out the characters. The audio is presented in 5.1 Dolby Digital, and except for a few instances here and there, is mostly a front-heavy track. This is (apparently) a comedy, so it's understandable that the surrounds are limited, but during a few scenes (like the ice slide and tiger attack) the rear speakers are used very nicely.
Disc one features a few extras, including several games (3 interactive and 8 DVD-ROM) and a commentary by director Chris Wedge and co-director Carlos Saldanha. Pop in disc two, and we get the real meat of the special edition. There is a making-of documentary, which would be very good if it weren't split up into different sections with no "play all" function. Sometimes it's nice to sit back and watch, without having to worry about pointing and clicking. There are also six short featurettes that could be informative if they were longer. There are six deleted scenes with optional commentary, the HBO First-Look Special, the all-new animated short "Scrat's Missing Adventure," scene-specific commentary by John Leguizamo, three interactive animation studies, international clips, and the trailers.
If you enjoyed the movie, you'll definitely be pleased with this excellent special edition.
Ice Age, from 20th Century Fox Home Entertainment
81 minutes, anamorphic widescreen (1.85:1) 16X9 enhanced, 5.1 Dolby Digital
Starring the voices of Ray Romano, John Leguizamo, Denis Leary
Produced by Lori Forte
Screenplay by Michael Berg and Michael J. Wilson and Peter Ackerman
Directed by Chris Wedge