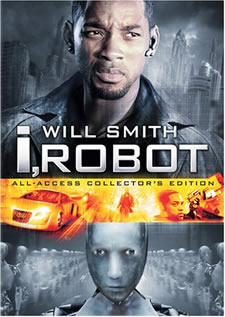 I, Robot: All Access Collector's Edition
Fox used to be the most reliable studio when it came to releasing quality DVDs the first time around. But now, jumping on the bandwagon, we have the second version of I, Robot in six months.
On the other hand, this is a pretty impressive set, with two new audio commentaries and a second disc with seemingly endless bonus material. The audio and video transfers appear to be the same, which is fine, since both are excellent.
Disc one includes the same Alex Proyas/Akiva Goldsman commentary, plus a second by production designer Patrick Tatopoulos, editor Richard Learoyd and the visual effects team, and a third by composer Marco Beltrami. Commentary number 2 is probably far too technical for the average Joe, as the group discusses all the techniques they used to create the world of Chicago in 2035, and various other topics relating to the look of the film. With so many participants (we counted 11), it's sometimes hard to follow everybody, but at least the gaps of silence are kept to a minimum. The composer commentary is good enough in its own right, as Beltrami talks about his approach to scoring the film, his mere 17 days to write and record it, and his working relationship with Proyas. Disc one also includes the same 12-minute featurette as the previous release, and a still gallery.
Disc two features about four hours of making-of material, beginning with "Day out of Days," an extremely lengthy production diary broken into nine subsections (each of which are also broken into multiple subsections). It takes us through the weeks and weeks of the film's production, demonstrating just how long and boring it is to make a movie, and features plenty of behind-the-scenes footage and a bit of dirt.
"CGI and Design" runs about 34 minutes and primarily features production designer Patrick Tatopoulos. The mini-featurettes feature plenty of sketches and focus on the look of the film. "Sentient Machines" also runs about 34 minutes and is all about the real-life world of robots. It features interviews with folks at irobot (the creators of the Roomba), real-life creators of robots, and film crewmembers as they talk about Asimov's laws of robotics and so on and so forth. "Three Laws Safe" features interviews with writers Jeff Vintar and Akiva Goldsman (separately) as they discuss writing the film, the similarities to Asimov's material, and their interest in robots.
"The Filmmaker's Toolbox" features deleted scenes and some visual effects how-to clips. The deleted scenes feature two scenes and two alternate endings. The first of the two scenes is completely useless as Spooner's young buddy plays basketball for a few seconds, while the second is a lengthy scene with Spooner and Dr. Lanning (in holo form) that is a great character piece but ultimately unnecessary. The alternate endings are a bit of a letdown, since one of them is the same ending but shorter, and the other is the same ending in pre-vis form. The How-Tos show us the original green screen shots and add the effects elements one by one until we see the final shot. It makes you stop and realize how much work actually goes into this stuff.
Finally, there are a bunch of Easter eggs scattered throughout the disc, most of which are just exercises in silliness (not that there's anything wrong with that).
As for the movie itself, okay, so it's an action adventure sci fi movie. That doesn't mean Dr. Asimov needs to spin in his grave at the liberties taken with his short story collection from which the title of this Alex Proyas movie was taken.
In fact, this I, Robot is true to the spirit of Asimov's robot stories and rather than trying to take those nearly unrelated stories and make a movie out of them they have instead taken that world and created a ripping yarn that blends Asimov with Philip K. Dick (as in "Minority Report") Tron and many other science fiction classics. And though it's a bit of a mishmash and not entirely unpredictable, it works and it's a very enjoyable film.
A bulked up Will Smith stars as police officer Del Spooner. When a leading roboticist dies suddenly of an apparent suicide, only he is suspicious that the dirty deed may have been done by a droid. The only problem is, robots don't kill people. Robots have to obey Asimov's three laws of robotics (you may remember them from Bicentennial Man as well, and they're spelled out a couple of times during I, Robot) and that means they are incapable of such an act.
Spooner gets no support in his theory, because a robot has never even committed a crime let alone a murder. But he pursues his theory doggedly, unwrapping a conspiracy that in the end threatens human society as these people know it.
There are plenty of nifty twists and turns in what's basically a neat whodunit (or, possibly, whatdunit) with action scenes thrown in to keep the popcorn crowd interested. And that's fine. Sci fi fans should love it and Asimov fans will be thrilled that – despite the lack of a truly "Asimovian" plot – the Master's ideas have made it to the big screen and have been treated with respect.
Smith is very good in his role as a man swimming against the current of everything everyone around him knows about robots. The supporting cast are pretty much along for the ride, but they don't get in the way. This movie is really Smith's and Proyas' and it's a dynamite looking and feeling flick.
Proyas, who also made The Crow and Dark City, has crafted a world that's believable (except that in the real world not everyone drives an Audi) and richly textured. The film is a feast for the eyes and ears, with stunning special effects, the script is intelligent (witty in places), though with a little more profanity than necessary. And it gives a remarkable insight into how our world may look in a couple of decades, when robots are generally available as more than rudimentary vacuum cleaners and paper towel dispensers. And the robots in I, Robot are extremely well thought out and rendered.
The DVD is first rate as well. Available separately, alas, in widescreen and Pan&Scan versions, we were fortunate to receive the widescreen version (16x9 TV compatible) for review. The video quality is superb, reference material stuff. Blacks are deep and rich, there's excellent detail and the image displays no artifacts.
Audio is offered in the choice of Dolby Digital and dts 5.1 surround (we generally prefer the dts, mostly because we're snobs) and it is also top drawer. There's excellent fidelity as well as wonderful use of the surround channels.
Extras abound as well. First up is a running commentary from director Proyas and writer Akiva Goldsman. There's also a "making of" featurette that's mostly merely promotional, a still photos gallery, a commercial for the TV sitcom Arrested Development and "Inside Look," which is a series of trailers for upcoming Fox Stuff.
I, Robot: All Access Collector's Edition, from 20th Century Fox Home Entertainment
114 minutes, anamorphic widescreen (2.35:1) 16x9 enhanced, Dolby Digital & dts 5.1
Starring Will Smith, Bridget Moynahan, Bruce Greenwood, James Cromwell, Chi McBride and Alan Tudyk
Produced by Laurence Mark, John Davis, Topher Dow, Wyck Godfrey
Screenplay by Jeff Vintar and Akiva Goldsman
Directed by Alex Proyas