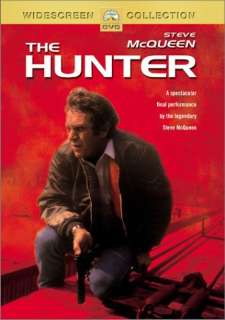 The Hunter on DVD
Steve McQueen plays real life bounty hunter Ralph "Papa" Thorson in this, his last movie role.
It's kind of a change of pace for McQueen, too, as he plays an aging male icon who's not only charged with bringing folks back to justice but a man in love who's facing the dilemmas of marriage, fatherhood and, through some of his associates, mortality and morality.
On one hand, he's larger than life, with his love of old things and his offbeat home lifestyle, while on the other he's smaller than life. He's a tired man at the end of his career, who has really just about outlived his usefulness and no longer has the energy to run across rooftops and mount long foot chases - even though he has to do that as a regular part of his work, it seems.
Then there's Steve McQueen, the well known driver, whose character has the dickens of a time parallel parking and operating a standard transmission….
The Hunter is perhaps thought of as a minor entry in the Steve McQueen filmography, but it's entertaining enough and there's enough action to keep you interested. The story keeps you intrigued and involved, and isn't that what it's all about.
There are also some warm moments as Thorson and his love (Kathryn Harrold) prepare for the birth of their first child - and some gripping scenes when her life is put into danger by some whacko Papa had brought in years before.
As a DVD, The Hunter leaves a lot to be desired. The picture is very grainy in places - and at best can be rated as only "adequate." At least it's in anamorphic widescreen, 16x9 TV compatible, but that's a feature every widescreen DVD should have. The audio, which is Dolby Digital mono and isn't directed to the center channel, isn't much better.
Extras are limited to the trailer.
Still, it's an interesting film and one that's well worth seeing.
The Hunter, from Paramount Home Video
97 min. anamorphic widescreen, (1.85:1), 16x9 TV Compatible, Dolby
Digital mono
Starring Steve McQueen, Kathryn Harrold, Eli Wallach, Levar Burton and
Ben Johnson
Produced by Mort Engelberg
Written by Ted Leighton and Peter Hyams, directed by Buzz Kulik.