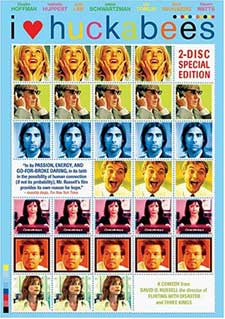 I Heart Huckabees on DVD
Take two parts existentialism, two parts witty dialogue and two parts good comedic acting and you have possibly the most bizarre film of the year.
Albert Markovski (Jason Schwartzman) is an environmental activist with a problem. His professional life is a shambles, and his personal life is no better. After three coincidences begin to get his mind going, he enlists the help of Existential Detectives Bernard and Vivian Jaffe (Dustin Hoffman and Lily Tomlin). As the two watch Albert from the sidelines, they start to get involved in the lives of the people involved in Albert's life.
Albert once again starts to feel alone, so switches from the Jaffes to Caterine Vauban (Isabelle Huppert), a former colleague of the Jaffes, who may or may not be able to give him what he seeks. Everyone's lives become interconnected to the point of sheer frustration by all, until they all have the inevitable epiphany that lets them all live happily ever after.
Or do they?
I Heart Huckabees is the epitome of strange. Think of a Bugs Bunny cartoon, if a Bugs Bunny cartoon had no likeable characters and centered around a subject that nobody ever really talks (or thinks) about. Whether you know a lot about existentialism or not, you're likely to find yourself wondering what the heck these people are on about. It doesn't help that the film seems to somehow manage to talk about existentialism, without ever really talking about existentialism.
In fact, I Heart Huckabees is possibly the most inane, off-the-wall film to come out of Hollywood in some time. At the same time, it's far too well-written for its own good. There may not be a soul on the planet that truly understands it, yet it's hard to imagine any open-minded, reasonably intelligent person not enjoying it on a certain level.
The movie gives the actors a chance to do some zany screwball comedy and try some things they've never done before. As a result, they all appear to be having a good time, and even Mark Wahlberg turns in a noteworthy performance.
If you're looking for a completely original comedy that will either make you think or prevent you from doing so (at least until afterwards), I Heart Huckabees is a winner. Just don't expect to understand too much.
The DVD of I Heart Huckabees is okay. The disc features both 2.35:1 anamorphic widescreen and full screen transfers. Picture quality is not too bad, with occasional bits of grain and softness, but nothing that takes away from the movie. Audio is as good, with well done separation and clear dialogue, but not really any surround use (granted there isn't much opportunity).
Extras include an audio commentary by co-writer/director David O. Russell, and a second commentary with Russell and actors Jason Schwartzman, Mark Wahlberg and Naomi Watts.
I Heart Huckabees, from 20th Century Fox Home Entertainment
106 minutes, anamorphic widescreen (2.35:1) 16x9 enhanced, Dolby Digital 5.1
Starring Dustin Hoffman, Isabelle Huppert, Jude Law, Jason Schwartzman, Lily Tomlin, Mark Wahlberg, Naomi Watts
Produced by David O. Russell, Gregory Goodman, Scott Rudin
Written by David O. Russell & Jeff Baena, directed by David O. Russell