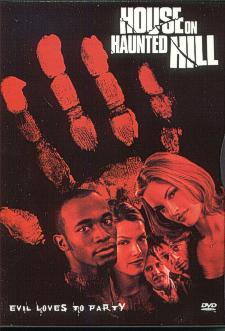 "House on Haunted Hill" on DVD
Schlock Horror Lives!
William Castle would undoubtedly be proud. The remake to his 1959 flick captures the same kind of fun as the late producer/director/showman was known for, with an updated story and state-of-the-art effects.
"House" stars Geoffrey Rush as the impresario of an amusement park that combines traditional rides with his offbeat idea of thrills. He's planning a birthday party for his estranged wife (Famke Janssen) and decides to hold it in an old asylum that was closed down many years before after an incident that saw several people killed.
The carrot to get people to attend is a one million dollar prize for anyone who lives through the night - powerful incentive, indeed.
The house is actually the House on Haunted Hill, of course - but what does end up surprising the cast is that there's more to the House than just evil memories of long dead loonies.
In fact, the House itself has a malevolent presence and gets actively involved in the festivities-turned-hostilities at the party. People begin disappearing, and their bodies start showing up around the house.
Or are they? Could it all be a monstrous game perpetrated by Rush's character - or could be be something even darker, yet still human.
House on Haunted Hill isn't particularly scary, though it's pretty creepy at times. One of the best scares comes right near the beginning, when Steven Price (Rush) is showing off his latest amusement park ride to a couple of gullible media types. Inside the house, things are fairly predictable, but that doesn't mean you won't have a good time on this roller coaster ride.
House on Haunted Hill isn't meant to be really scary; it's more of an homage to the films of days gone by, especially William Castle's films like the original of this one and "The Tingler." And as such, it succeeds.
The DVD is in widescreen, enhanced for 16x9 TV's, and looks and sounds great. Extras include a director's commentary track and a documentary on the making of the new film that compares it with the original. It's quite entertaining. There are also some "mini documentaries." You also get deleted scenes and the usual filmographies, chapters, etc. There's a selection of DVD ROM stuff, too, like essays on the genre, an "Escape from the House" game, and sample trailers.
House on Haunted Hill, from Warner Home Video
93 minutes, Widescreen (2.35:1), Dolby Digital
Starring Geoffrey Rush, Famke Janssen, Taye Diggs, Ali Larter, Bridgette Wilson, Peter Gallagher, and Chris Kattan
Produced by Robert Zemekis, Joel Silver, Gilbert Adler,
Written by Dick Beebe, Directed by William Malone.