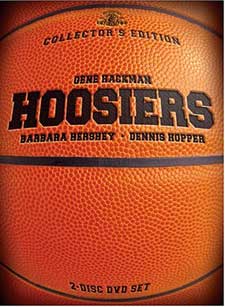 Hoosiers on DVD
We'd heard for years about what a great movie Hoosiers is, so we dove into this new special edition DVD with gusto. And while the movie does have a lot going for it, in the end it comes off as a highly predictable tale full of stereotypes of setting, situation, and characters.
Gene Hackman is typically excellent as coach Norman Dale, a man with a dark past who comes to Hickory, Indiana, to coach the high school basketball team. This appears to be his last chance for redemption, thanks to his past antics, and he's determined to make it a good one. But he also isn't willing to compromise who he is or put his own supposedly proven methodology onto the back burner in order to get along more smoothly with the people of Hickory.
Those people come off like a bunch of idiotic, unflinching boobs – kind of like how liberal Democrats in the US look upon the people in the so-called "red states." Yessirree, they're a bunch of knuckle-dragging Neanderthals bound and determined to make coach Dale's life miserable as he pursues his own idea of coaching and refuses to compromise.
And that's part of the movie's problem. These people are so stereotypical it's hard to believe them.
Then there are the basketball games. Coach Dale starts with a very small nucleus of players that almost immediately shrinks further as a couple of player rebel. But he doesn't care; his will be done.
Fortunately, the star player – who had been sitting out the season due to "personal issues" – comes to the rescue and after a disastrous beginning the various players begin to coalesce into a real team and they start winning. Will they make the championship and, if so, will they win?
We won't spoil the movie by telling you, but we don't really need to. The basketball games are as tiresomely predictable as the other stereotypes.
On the other hand, the movie has a wonderful feel of authenticity, looks great, and features some tremendous performances. Hackman is great (but isn't he always?) and the rest of the supporting cast – led by the very talented Barbara Hershey and augmented by what could be the performance of his career by Dennis Hopper as the town drunk who shakes off his alcoholism to become a team leader – is also first rate, even if they're playing caricatures.
The two disc DVD has received a nice treatment. The remastered anamorphic widescreen picture looks very good, despite some grainy sections. Colors are beautiful (we loved the exterior shots in particular) and the image is quite sharp. Audio, which is Dolby Digital ____, is better than adequate though of course not up to today's all-digital standards.
Extras include the complete actual championship game upon which the climax of the movie is based, a commentary track by director David Anspaugh and writer Angelo Pizzo (who also introduce 13 deleted scenes).
Those deleted scenes flesh out the Hackman-Hershey relationship and plug up a few holes in the plot, but we can understand why they were cut originally. There's also a half hour featurette in which most of the main talents behind the original film reminisce about their experiences.
You also get a photo gallery and the original trailer.
Hoosiers, from MGM Home Entertainment 114 min. anamorphic widescreen (1.85:1, 16x9 TV compatible), Dolby Digital 5.1
Starring Gene Hackman, Barbara Hershey, Dennis Hopper
Produced by Carter De Haven and Angelo Pizzo
Written by Angelo Pizzo, directed by David Anspaugh