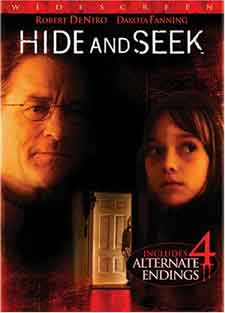 Hide and Seek on DVD
The great thing about being Robert De Niro is that you'll always be Robert De Niro.
You can go from being in many of the finest Hollywood films ever made, to being in movies such as Rocky & Bullwinkle and now, Hide and Seek.
David Callaway (De Niro) is a psychologist whose wife has just committed suicide. Thinking that his daughter, Emily (Dakota Fanning) just needs to get away, he moves to a quaint little town an hour away from New York City. Before long, Emily makes a new friend in the form of Charlie, a may-or-may-not-be invisible kind of friend.
When Charlie begins to wreak havoc on David's life, he starts to think that "Charlie" is just Emily's way of getting back at her father for letting her mother die. But then Charlie even begins to scare the wits out of Emily, prompting David to think there may be more to it. So David must find a way to get rid of their new houseguest before he gets rid of them.
It must be mentioned that Hide and Seek was originally shipped to theatres separately from its final reel, so as not to give away its big, twist ending. We can tell you right now that the twist ending is about as unfulfilling as they come. On one hand, we never saw it coming, not from a mile away. On the other hand, it's because it's the same twist that has now been used multiple times and we never fathomed that the filmmakers would actually go through with it, especially when they tried to make us think it was something extraordinary. And once the big twist occurs, the movie still treads on for another 20 minutes or so, making more classic horror movie mistakes that we can't mention lest we give something away. Plus, that gives you an extra 20 minutes to realize that the big twist not only sucks, but also causes other parts of the film to not make a lick of sense.
To be fair, the first hour and a bit of Hide and Seek is quite well done. Director John Polson sets the mood perfectly right off the bat, then builds tension and suspense very nicely until the big reveal. Then things go to hell.
De Niro is De Niro, and the man will probably never give a lousy performance in his life. Hide and Seek is below him. Dakota Fanning is the most talented young actress of many years, and can actually hold her own onscreen with such a legend as De Niro. Hide and Seek is below her.
This is not a film most people would want to waste their time on. There are plenty of horror films out there that deliver the goods from start to finish, not just from start to twist. The last 20 minutes of the film are so bad, they will likely make you forget that the first hour+ is actually pretty good.
For some reason, Hide and Seek did rather well at the box office. As a result, the DVD presentation is not too shabby. Video is presented in 2.40:1 anamorphic widescreen, and the most impressive factor is the black level. The film is chock full of really dark scenes, but we can always make out the necessary details (unless we're not supposed to). Colors and regular detail look pretty good as well, although we did notice some touches of grain here and there.
In terms of audio, we get a choice between Dolby Digital and dts 5.1 surround tracks. Both sound pretty much the same. Certain elements, such as doors slamming or wind blowing manage to fill the room from all five speakers, but most of the audio uses the front channels and that's it. Fortunately, Hide and Seek doesn't rely on the usual "boo" tactics to scare us, so there aren't any points of really loud noises trying to make us jump (save for one near the beginning that has a cat jumping out of a closet with a "REOWWR!").
Director Polson, editor Jeffrey Ford and screenwriter Ari Schlossberg provide an audio commentary that gets boring really quickly. They discuss the usual filmmaking techniques, casting, pre-production, and so on, but we can't help but notice we're actually sitting through the entire movie again. The 19 minutes of deleted scenes expands on the characters a little more, and the optional commentary explains (very well, actually) why they were cut from the final film. While we can agree with most of the deletions, some of them may have helped a little. Just a little.
The 10-minute making-of featurette is complete fluff, with the cast and crew (sans De Niro) talking about how much they love each other and the movie. Yeah, okay. "Previs Sequence" is just a fancy way of saying "storyboard-to-film comparisons," which are not usually interesting, with no exception here.
Finally, we get four alternate endings, each of which is special in its own way. We were most impressed with alternate ending number three, although it's hard to say whether or not it would have improved the final effect of the film. You can watch the endings by themselves, or you can watch the entire movie again (!!) with the ending tacked on.
Hide and Seek, from 20th Century Fox Home Entertainment
101 minutes, anamorphic widescreen (2.40:1) 16x9 enhanced, Dolby Digital & dts 5.1
Starring Robert De Niro, Dakota Fanning, Famke Janssen, Elisabeth Shue, Dylan Baker
Produced by Barry Josephson
Written by Ari Schlossberg, directed by John Polson