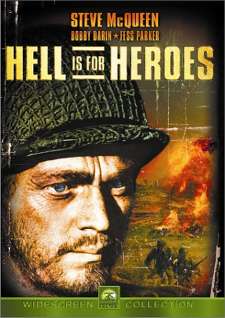 "Hell is for Heroes" on DVD
WWII Drama
War is hell, and in director Donald Siegel's "Hell is for Heroes," we can see why.
Harry Guardino heads up a handful of soldiers stationed along the Siegfried Line in Autumn, 1944. Ordered to hold their position against what turns out to be far superior German odds, they're forced to improvise in order to survive.
They make noise and pull off a few other cons aimed at convincing the enemy that they actually have a full complement of personnel. Among their tricks are noisemakers and a wet behind the ears typist (Bob Newhart) who spends a great deal of time speaking into a German listening device, pretending to converse with the highers up, spreading misinformation about the little group and its strength and activities.
Steve McQueen gets top billing for what's really one of many supporting roles in an ensemble cast. He's a quiet rebel with skeletons in his closet, but the kind of guy you'd want next to you in a foxhole when push comes to shove. He's joined by Bobby Darin, James Coburn, Mike Kellin, Nick Adams and Fess Parker, all of whom turn in credible performances.
It's a pretty gritty portrayal of war with some marvelous direction from Siegel as the small group works together, bonds, is torn apart by circumstances, and generally suffers the slings and arrows of outrageous fortune as they do their best to hold the line against the encroaching Nazis.
The ending, however, is awful! As the squad is storming an enemy pillbox and all hell is breaking loose, we see "The End" on the screen - with no resolution to the story. Do they take the pillbox? Are they all killed?
We'll never know, unfortunately, and that's a shame. With the energy the audience expends on behalf of these heroes, you feel more than a mite cheated by the premature ending.
Then again, maybe war's like that…
The DVD is in black and white anamorphic widescreen, enhanced for 16x9 TV's, and the picture quality is razor sharp. Audio is Dolby Digital mono and it's fine as well considering the age of the film and that attention to audio detail wasn't as much of a priority in many films of this vintage.
The only extra is the trailer.

Hell is for Heroes, from Paramount Home Video
89 min, anamorphic widescreen (1.85:1), 16x9 TV compatible, Dolby Digital mono
Starring Steve McQueen, Bobby Darin, Fess Parker, Harry Guardino, James Coburn, Mike Kellin, Nick Adams, Bob Newhart
Produced by Henry Blanke
Written by Robert Pirosh and Richard Carr, Directed by Donald Siegel.