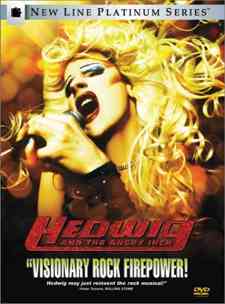 Hedwig and the Angry Inch
Hedwig and the Angry Inch is definitely the weirdest movie I've seen in quite some time.
It's supposed to be a movie to reinvent the rock musical, but it's not really a rock musical at all. It tries very hard to be, but doesn't quite make it. Instead of having the songs and music incorporated into the story, it just interrupts the story to have the title band play a song or two.
This, of course, is a clever way of making a 45 minute script run 90 minutes.
The movie is about Hedwig, a transsexual punk rock star whose sex change operation was botched. Knowing that, I'm sure you can figure out what the angry inch is. Hedwig is the lead singer/songwriter for his (her?) band, Hedwig and the Angry Inch.
It's hard to talk about the plot or story, since I'm still not sure what either of them are. It looks almost as if the movie wants to be a parody (or homage) to the "Behind the Music" show on TV. But then, it gets a lot more into the personal life of Hedwig than a TV show would.
John Cameron Mitchell stars in, wrote and directed the movie, which is based on the off-Broadway play of the same name. He manages to not only convincingly resemble a woman (whether that's a compliment or not, I haven't figured out), but also look convincingly British (even though the character is German). He has the ability to act, direct, and sing the songs very well. If he wanted this movie to be a chance to show off his chops, he's done an excellent job.
Fortunately, the movie never goes into the "gay vs. straight" kind of thing that so many movies would. It's about the character, and never forgets that. I was very pleased to see it wasn't hitting us over the head with the fact that this character is a homosexual.
The music and score was written by Stephen Trask, a real life punk rocker. Some of the songs are catchy, but others are pretty bad. Interestingly enough, Trask also appears in the movie as a member of the Angry Inch.
Hedwig and the Angry Inch is a love it or hate it movie. I just haven't figured out whether I love it or hate it. It's unique, which is always a nice touch, but I can guarantee it' isn't for everyone's tastes.
It's worth watching, though, if for no other reason than sheer curiosity.
Now that New Line has its Infinifilm series for its major theatrical releases, it's able to give its minor releases the Platinum Series treatment. Hedwig is an excellent example.
The picture is very good, shown in 1.85:1 anamorphic widescreen. It doesn't compare to the quality of Infinifilm, but for an indie film, I'd say it's pretty outstanding. The sound (your choice of Dolby Digital or DTS 5.1) is also excellent. You couldn't have an effective rock musical without great sound - despite many attempts at doing just that over the years in a variety of rock movies. During the musical numbers, it almost feels like you're sitting there in the middle of a concert.
The special features include one of the best documentaries I've ever seen: the 85 minute "Whether You Like It Or Not: The Story of Hedwig." This doc tells you everything you could possibly want to know about the development of the character, stage production, and movie. It features interviews with all the key players, and touches on everything from how Mitchell and Trask met to how it was received by audiences. This is how documentaries should be done.
There is also a commentary by John Cameron Mitchell and director of photography Frank DeMarco. It's okay, but the two aren't as personable as they could be. There are some deleted scenes with filmmaker commentary, a song-by-song access to the film, and the trailer.
Hedwig and the Angry Inch, from New Line Home Entertainment
92 minutes, anamorphic widescreen (1.85:1) 16 X 9 enhanced, 5.1 Dolby Digital, DTS
Starring John Cameron Mitchell, Andrea Martin, Michael Pitt and Miriam Shor
Produced by Christine Vachon, Katie Roumel, Pamela Koffler
Written for the screen and Directed by John Cameron Mitchell