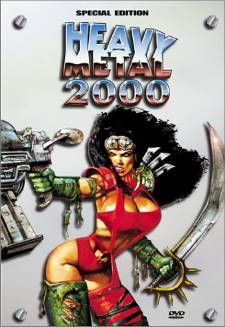 "Heavy Metal 2000" on DVD
Pulp Science Fiction
Heavy Metal 2000 has the look and feel of its earlier incarnation, but this one's a single story rather than the anthology-style format of the first movie.
The story concerns the discovery by space pirate Tyler (voiced by Michael Ironside) of the key to immortality. This turns him into a raving bloodthirsty looney bent on bringing the key home so he can claim its gift of life.
Unfortunately, he laid waste to the lovely and innocent planet Eden, which raises the ire of F.A.K.K. 2 (Julie Strain), a buxom babe in the tradition of such animated and magazine fare. Bent on vengeance, she follows Tyler across the galaxy to his destination, having run ins with him and his crew at every turn.
It's a typical pulp sci fi story filled with gratuitous gore, gorgeous space and planetscapes, and the pounding heavy metal rock soundtrack you'd expect. The film is obviously not a big budget outing, but they did a good job with the resources at hand. It doesn't come close to the animation quality of Titan AE - and it definitely isn't suitable for the very young, but it delivers what Heavy Metal fans will want to see.
The DVD is in anamorphic widescreen, with Dolby Digital 5.1 audio, and the digitally mastered picture and sound are great. There aren't a lot of extras beyond a couple of paens to Julie Strain, upon whom the character of F.A.K.K.2 was based - though you can access the movie's heavy metal musical score on an isolated audio track.
There are also some animatic samples, animation tests, a photo gallery, and the trailer.
Heavy Metal 2000, from Columbia Tristar Home Video
approx. 88 minutes, Widescreen (1.85:1), Dolby Digital
Starring the voices of Michael Ironside, Julie Strain, and Billy Idol
Produced by Jacques Pettigrew, Michel Lemire
Written by Robert Payne Cabeen, Directed by Michel Lemire and Michael Coldewey