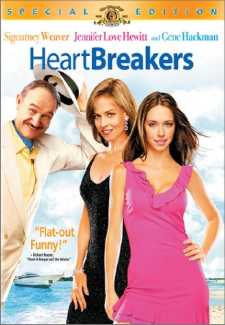 Heartbreakers
Chick Chic
Heartbreakers starts off with a typical wedding. Max Conners (Sigourney Weaver) is getting married to Dean Cumanno (Ray Liotta). Everything seems perfect, until she falls asleep right when they're supposed to…you know.
But Dean is in love, so he doesn't mind. And before they head off on their honeymoon, he has to stop in at work to do a few things. When he gets there, his lovely assistant Wendy (Jennifer Love Hewitt) is waiting for him, wearing a skirt so short it would make a Playboy centerfold blush. Once she bends over to pick up some papers she dropped, Dean can't control himself. She's about to give him some oral sex, when she "gets her hair caught in his zipper." Right then, Max walks in. She's heartbroken, and ends up divorcing Dean and getting a hefty settlement.
But it turns out that Wendy is actually Max's beautiful daughter Page, and the duo have been performing this same scheme for years. Now, Page is talking about going off on her own, but Max doesn't think she's ready. So after finding out they owe a lot of money to the IRS, they decide to do one more big hit together. This leads them to target the multi-billionaire William Tensy (Gene Hackman). Page still believes she can pull the scheme on her own, so while involved in the con with her mother, she also targets a potentially wealthy bar owner (Jason Lee).
The most important rule that Max teaches Page is that you never ever target a guy who's even remotely cute. That leads to falling in love, which will ruin the entire plot. It's interesting how that line was thrown in, considering it single-handedly gave away the plot to the film. Whether it was intentional or not, it doesn't really matter.
Director David Mirkin managed to assemble a phenomenal cast for this film. Weaver and Hewitt are perfectly cast for the roles they play, though Hewitt seems to get by more on showing cleavage than on her acting skills. Ray Liotta is excellent, particularly when portraying Page's second cousin, Vinnie. Jason Lee is the perfect nice guy, and Gene Hackman is always good.
What I don't understand is why so many critics hated the movie just because of its length. It's two hours and three minutes long, which is really not that long. Especially since nobody complains about the length of Gone With the Wind or Ben Hur. As long as the movie is entertaining, isn't it a good thing that you get to watch it longer?
Heartbreakers has some very funny moments. It's not great, but it's good. Its purpose is to make you laugh, and it does. What more can you ask for?
Lately, MGM has taken great pride in presenting their DVDs. This one is no exception. The picture and sound are excellent, though the picture seems a little dark at times. All in all though, the colors are bright and the tones seem good. There's not much in the movie that would make great use of your sound system, but it's definitely there if you want it. It's presented in 5.1 Dolby Digital, and 2.35:1 anamorphic widescreen.
Extras include two original documentaries: "The Making of Heartbreakers" and "Laffs & Gaffes," 22 deleted scenes with optional commentary, two commentary tracks and the trailer.
Overall, a very nice disc.
Heartbreakers, from MGM Home Entertainment
123 minutes, anamorphic widescreen (2.35:1) 16X9 enhanced, 5.1 Dolby Digital
Starring Sigourney Weaver, Jennifer Love Hewitt, Ray Liotta, Jason Lee and Gene Hackman
Produced by John Davis and Irving Ong
Written by Robert Dunn and Paul Guay & Stephen Mazur
Directed by David Mirkin.