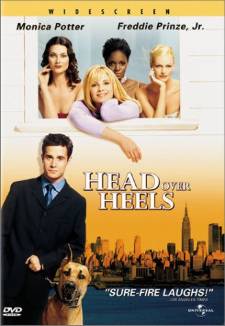 Head Over Heels
A Mod'lin' Romance
Head Over Heels is a romantic comedy that deliberate tries to hearken back to the "good old days" of Hollywood and which, for the most part, succeeds.
Monica Potter (Watch this lady! She may become Hot!) stars as Amanda Pierce, an art restorer who, after catching her live in boyfriend with another woman, finds herself sharing an apartment with four wannabe Supermodels. She also finds, via a large Great Dane dog, the man for whom she falls head over heels (see?), Jim Winston (Freddie Prinze Jr., another name and face to watch).
Jim's a Really Nice Guy, the man of her dreams, at least until Amanda thinks she sees him murder a woman by beating her to death with a baseball bat. Determined to find out if her dream guy is nothing but a lowlife thug, Amanda and her model friends decide to ferret out the truth. This leads to some amusing situations, to say the least.
So is Jim a murderer, or a victim of mistaken identity, or what - and is he even Jim? You'll have to watch "Head Over Heels" to find out.
"Head Over Heels" is a bit like "Audrey Hepburn's Funny Face" with a lot of "Rear Window" thrown in (except for the Hitchcockian suspense stuff), so the filmmakers' attempt at making a "throwback comedy" works. It also features excellent performances all around. Potter (who reminds us a bit of a young Rebecca de Mornay) is terrific as Amanda; she's bright, articulate, graceful and attractive (especially when she isn't painted up like a supermodel/tart) - yet can perform a pratfall as if she's been doing them for years. Prinze is extremely likable and will undoubtedly become one of the premier "babe magnets" of the early 21st century.
The models are played by real life models/actresses for the most part, and they're perfectly cast. The juxtaposition of their superficial lives and personalities with the far more substantive Amanda works very well.
In short, "Head Over Heels," is a refreshing change from the average "sex farce" of today's Hollywood.
The DVD is presented in anamorphic widescreen, 16x9 TV compatible, with Dolby Digital and DTS 5.1 sound. Picture and sound quality are terrific, though we didn't notice a lot of surround info coming from the rear speakers (which beats having surround effects for the sake of having surround effects).
Extras include a good "Spotlight on Location" featurette, production notes, a little bit of cast/crew info, and some DVD ROM features.
All in all, an enjoyable DVD.
Head Over Heels, from Universal Home Video
87 min, anamorphic widescreen (2.35:1), 16X9 TV compatible, Dolby Digital/DTs 5.1
Starring Monica Potter, Freddie Prinze Jr. Sarah O'Hare, Shalom Harlow
Produced by Robert Simonds
Written by Ron Burch & David Kidd, Directed by Mark Waters.