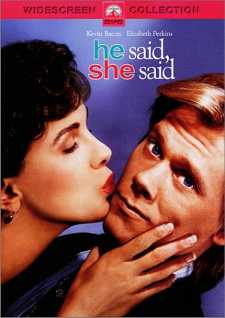 He Said, She Said on DVD
Sexual Mind Games
This movie tries to be an innovative battle of the sexes comedy whereby the first half is told from his point of view and the second half from hers.
What we end up with, unfortunately, is half a movie told twice.
Kevin Bacon is Dan Hanson and Elizabeth Perkins is Lorie Bryer. Both are journalists competing for a column gig at their Baltimore newspaper. Both get the gig, which is retooled into a "He Said, She Said" feature where each argues their point of view on a particular issue. They're a hit with the paper and its readers and, almost reluctantly, the opposites attract and they become a hit with each other, too.
Eventually, the column becomes a TV bit on a local station and, just when it looks as if it'll be picked up for syndication, their relationship crumbles and they break up.
Don't get the idea that the gimmick of retelling the movie from both protagonists' point of view means you sit through the film twice. While a few scenes are repeated, with dialogue changed to reflect the point of view and memories of the particular protagonist, most of the movie actually stands on its own. Sure, the relationship is retold, but very differently.
And as likeable as Bacon and Perkins - and co-stars Nathan Lane and Sharon Stone - are, the movie ends up being a bit of a mishmash. The scenes that worked best were the ones that were repeated from a different point of view, but since these are in the minority, most of the film's flashbacks unfold like a jumble of memories that jump all over the place.
Perhaps if they had figured a way to edit the film more linearly it might have helped, or repeated every scene from the different point of view.
Still, you have to take your hat off to the gang for having at least tried something different. It isn't like this is a bad movie, it's just confused.
And then there's an overly sappy and predictable ending….
Perhaps if the script were written by a male and a female, rather than just a guy, the concept would have worked better.
The DVD is presented in anamorphic widescreen, 16x9 TV compatible, and the picture is top notch. Audio is Dolby Digital 5.1 and while there isn't a lot of surround, the quality of the sound is fine; this isn't really meant as an audio/visual feast anyway.
Extras include a commentary by co-directors Ken Kwapis and Marisa Silver, along with writer Brian Hohlfeld and Stephen H. Burum. You also get the trailer.
He Said, She Said, from Paramount Home Video
115 min. anamorphic widescreen (1.85:1), 16x9 TV compatible, Dolby Digital 5.1
Starring Kevin Bacon, Elizabeth Perkins, Sharon Stone
Produced by Frank Mancuso, Jr.
Written by Brian Hohlfeld, directed by Ken Kwapis and Marisa Silver.