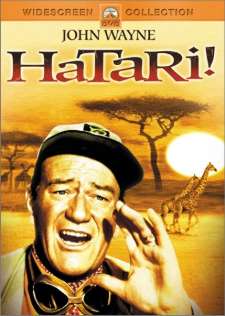 Hatari! on DVD
a Real Animal Act?
This is a movie that would never get made today, at least not if the animals were treated now as they were then.
This 1961 Howard Hawks epic stars John Wayne as Sean Mercer, who runs an African-based outfit that captures wild animals and sells them to zoos and circuses. It's a big, sprawling movie shot on location in what is now known as Tanzania that combines action and adventure with comedy and romance.
The gang, consisting of Wayne, Hardy Kruger, Red Buttons, Gerard Blain, Bruce Cabot, Valentin de Vargas, and Michele Girardon, is thrown a loop when a beautiful Italian photographer (Elsa Martinelli) shows up determined to go with them and shoot their work on behalf of one of their zoo customers.
Well, she and Sean get off to a bad start, but it doesn't take long before they have a real love/hate relationship that, if they'd only give it a chance, would turn into a real love/love relationship. But that would be too easy…
The movie is full of great action scenes, though we felt really, really sorry for what they put those poor animals through (especially when you think of a film requiring multiple takes!). They're actually chased down and roped before being put into their cages. Perhaps there were no tranquilizer darts back in 1961, but despite how much we like the human characters and don't begrudge them their living, we sure hope things are done differently now!
There are marvelous animals, including a beautiful cheetah that's the family pet, boozing and brawling, marvelous African locations, and likeable performances all around. You even believe the romance between Wayne, the big lug, and Martinelli, the hot blooded visitor.
Hatari, which apparently means "danger" in Swahili, is a big, widescreen epic that's enjoyable from beginning to end. It's also the film that brought us Henry Mancini's "Baby Elephant Walk." A good film that, today, would surely be picketed by the likes of PETA and, for once, they'd be right.
The DVD is presented in anamorphic widescreen, with "restored" Dolby Digital mono sound and both the audio and video are very good. The audio, alas, comes from the main stereo speakers rather than being directed to the center channel, so depending upon where you sit in the home theater you could find the audio coming from other than the screen.
Extras include the trailer.
Hatari, from Paramount Home Video
157 min, anamorphic widescreen (1.85:1), 16x9 TV compatible, Dolby Digital mono
Starring John Wayne, Hardy Krüger, Elsa Martinelli, Red Buttons, Gérard Blain, Bruce Cabot, Michèle Girardon, Valentin de Vargas
Written by Leigh Brackett
Produced and Directed by Howard Hawks.