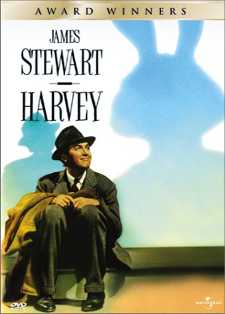 Harvey on DVD
An Inarguable Case of Haresee
Harvey is possibly the most famous movie character no one has ever seen.
He's a six foot plus invisible rabbit, of course, a mischievous sprite called a pooka who chooses to hang around with amiable small town layabout Elwood P. Dowd (James Stewart).
It's really Dowd's story, and that of his family who have been embarrassed by this supposedly nonexistent vision one too many times and decide it's time to put Elwood away for his (their) own good. Elwood's sister Veta Louise (Josephine Hull, who won an Oscar for her performance) and her daughter Myrtle May (Victoria Horne) are wannabe socialites, but every time they get a chance to try schmoozing their way to the top of the society column Elwood and Harvey come along and screw it up.
So they take him to Chumley's Rest, a nut house, to get him out of the way so they can live their lives the way they want to.
Unfortunately for them, Harvey really does exist; he just doesn't choose to show himself to anyone and everyone - and he has magical abilities that he puts to use protecting Elwood from their plot.
Elwood, meanwhile, moves through life as if it were set to music. He's an easygoing, amiable soul who likes to tipple and to socialize himself - and he's as happy hobnobbing with ex-cons and reprobates as with the upper crust Veta and Myrtle Mae so desperately want to rub shoulders.
Everyone thinks he's nuts because of Harvey, but they like him anyway and tolerate his foible.
Except at Chumley's Rest, where young Dr. Sanderson (Charles Drake) wants to make a name for himself as a psychologist and Nurse Kelly (Peggy Dow) wants to help him. Sanderson knows a loonie when he sees one, and so proceeds to commit Veta, much to her chagrin.
This sets off a subplot involving threatened lawsuits, a blossoming romance for Myrtle May with the sanitarium's muscle (Jesse White), and the shocking discovery by none of than Doctor Chumley himself (Cecil Kellaway) of the truth behind Harvey.
Harvey is a gentle comedy that'll make you laugh out loud, while rooting all the way for Elwood and Harvey. The cast is perfect, particularly Stewart as Dowd, in what he has said was one of his favorite roles. Most of the rest of the cast spends much of the time running around waving their arms in the air, figuratively, as they swirl around in the maelstrom of Elwood's wake, but they do it extremely well.
The screenplay, co-written by Mary Chase, is based on her Pulitzer Prize winning play, is charming.
The DVD kicks things off with a verbal introduction by the late James Stewart, over a montage of photos from the film. This is accessible from the menu, but the movie also starts off with it, which is kind of annoying (since we'd already watched it via the menu). Fortunately, chapter skipping ahead gets you by it quickly and painlessly and you're on to the fun.
The original full screen aspect ratio, black and white picture quality is excellent and the monaural audio also sounds very good all things considered. We'd have preferred a true mono signal, rather than 2.0 channel mono, but this isn't a fatal flaw.
Other extras include the trailer as well as production notes and cast/filmmakers' bios.
Harvey, from Universal Home Video
105 min. Full Screen (1.33:1) not enhanced 16x9 TV, Dolby Digital 2.0 mono
Starring James Stewart, Josephine Hull, Charles Drake, Cecil Kellaway, Jesse White, Victoria Horne, Wallace Ford and Peggy Dow
Produced by John Beck
Written by Mary Chase and Oscar Brodney, Directed by Henry Koster.