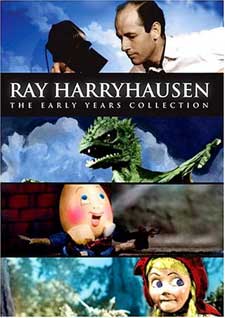 Ray Harryhausen The Early Years Collection on DVD
By Jim Bray
Fans of this legendary moviemaker simply must take a look at this excellent DVD.
Ray Harryhausen the Early Years Collection is a two disc set that offers beautifully restored versions of many early works from the special effects master, including a collection of fairy tale stories that are absolutely marvelous.
Okay, in the interest of journalistic honesty (hey, there's a concept!) I must admit up front that I am a longtime Ray Harryhausen fan and must also admit that this disc may not be of much interest to people who've never heard of the man or who only have a passing interest – though the fairy tales themselves are at least as entertaining and worthwhile as many of the DVD's now available for kids.
But as a Harryhausen fan I was delighted and thrilled by this collection. I had heard of the fairy tales before but never seen them and I'm pleased to say that they were worth the wait.
Ray Harryhausen is best known for his work creating special effects for such classic sci-fi and fantasy films as Jason and the Argonauts, First Men In the Moon, The Mysterious Island, The 7th Voyage of Sinbad, Clash of the Titans and many more. Jason is my personal favorite, followed closely by the Golden Voyage of Sinbad, and each film is an excellent showcase for Mr. Harryhausen's prodigious talent.
He's chiefly credited for his stop motion animation, which brings objects to life a frame at a time, but he was actually a lot more involved in the movie making process than that. In fact, this DVD makes it clear that he also thought up many of the projects, including their stories, as well producing all of the special effects from scratch, usually (from my recollection) by himself. Contrast that last point with the closing credits on today's special effects extravaganzas that list hundreds of artists and technicians in the effects category.
You don't get a lot of footage from his best known works which, fortunately, are mostly available on DVD already, either separately or in boxed sets. But the fairy tales are worth the price of admission on their own, and thanks to the Academy of Motion Picture Arts and Sciences' lovely restorations it looks almost as if these short films were made yesterday instead of more than 50 years ago.
First up is "Mother Goose Stories," a short collection of nursery rhymes brought to life by the painstaking labors of Mr. Harryhausen. Then we get to the really good stuff: Little Red Riding Hood, Hansel & Gretel, Rapunzel, King Midas and The Tortoise and the Hare, and you can watch them all together with introductions to each short by Mr. Harryhausen himself.
The fairy tales are amazing. Mr. Harryhausen doesn't just animate these puppets; he makes them act. I kid you not! Using stop motion combined with replaceable heads that have different facial expressions (which he brought to life by using a quick camera dissolve), he makes these characters perform, in mime, accompanied by a narration. It was an innovative and imaginative way for Mr. Harryhausen to use dialogue without having to hire extra actors for different characters and then synchronize the words with the visuals. And it works just fine.
The restored picture looks terrific, bright and sharp and colorful, and the accompanying audio track sounds great as well. They've done an excellent job on the restoration.
While the Fairy Tales and Mother Goose Stories are arguably the highlight of the set, disc one also contains some of Mr. Harryhausen's other early films, including some done for the US military during World War II, as well as a collection of early tests and experiments. You also get a look at the making of (or, more accurately, the finishing of) The Tortoise and the Hare, a film begun in the early 1950's but which was finished some 50 years later by a couple of talented fans in conjunction with their hero and mentor himself.
And what a thrill that must have been for all involved!
Disc two is devoted mostly to honors and tributes to Mr. Harryhausen and, while casual fans may not care about them, diehards are sure to wallow in the acclaim given to this giant. There's a look at the ceremony at which he received his star on the famous Hollywood Walk of Fame, accompanied by his longtime friends Ray Bradbury and Forrest J. Ackerman ('4E", to those of us who grew up reading his Famous Monsters of Filmland magazine). Bradbury and Ackerman also turn up in other featurettes on the disc, and their insights, memories and humor are much appreciated.
You also get a short feature on the David Livingston statue Mr. Harryhausen designed for a Scottish park that bears the explorer's name, as well as a variety of other tributes and intereviews. One of my favorites is the Appreciation by a veritable Who's Who of movie magic, from long time Industrial Light and Magic gurus such as Dennis Muren and Phil Tippett to directors such as Frank Darabont and Peter Jackson, virtually all of whom owe the inspiration for their careers to the works of Ray Harryhausen.
The whole shebang runs just under four hours and though some of it is a tad repetitive, I never lost interest, nor did I fail to be delighted.
Okay, this disc isn't for everyone. But if, like me, you're a nut for cinefantastique in general and the works of Ray Harryhausen in specific, you'll want this DVD in your collection.
Ray Harryhausen, the Early Years Collection, from Sparkhill Home Entertainment
233 min. full frame, Dolby Digital 5.1
Starring Ray Harryhausen and his creations, along with guest stars such as Ray Bradbury, Forrest J. Ackerman, John Landis, Richard Edlund, John Dykstra and many more
Executive Producers Ray Harryhausen and Eric Young
Produced by Arnold Kunert