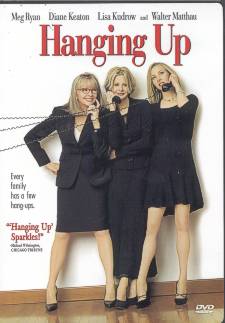 "Hanging Up" on DVD
Phoney Laughs
Columbia Tristar's "Hanging Up," is described in the quotes on the box as "Brilliant," and "an irresistible comedy."
Don't believe it. Whoever came up with those quotes either didn't see the movie or were blinded by seeing a "girl movie" in all its glory. Or maybe the reviews were misquoted.
Now, this reviewer isn't a girl, but that doesn't make him unqualified to review "Hanging Up," which his wife (who is a girl) also found substandard.
Hanging up follows Eve (the luminous Meg Ryan) as she tries to keep uncountable balls in the air at once. She also seems to spend her life on the cellular phone, whether it be running her business, talking girl talk with her sisters (Diane Keaton, who also directed, and Lisa Kudrow), or handling her curmudgeon of a father (the late Walter Matthau) as he careens from one crisis to another.
Eve is the glue that really holds her family together, the rock upon whom everyone else leans, until finally she's had enough and lashes out at her sisters during a moment of crisis.
This is a relationship movie in the tradition of those Canadian art films that no one ever watches. Well, perhaps that isn't fair; "Hanging Up" is still mainstream – it just isn't funny.
There's really nothing seriously wrong with the movie but, while comedy may be in the mind of the beholder, a film billed as "sparkling" and "an irresistible comedy" should include at least one laugh.
"Hanging Up" is full of whining as the three main female leads bemoan their lot in their busy lives. You like Meg Ryan's character, and her sisters, well enough, but the character you feel the most empathy for is Matthau, who's the most realistic and three dimensional in the cast.
Anyway, "Hanging Up" is based on the novel by Delia Ephron and is produced by Nora Ephron (creator of other relatively unfunny "chick flicks") and Laurence Mark (of "Jerry Maguire" fame).
The DVD is offered in both anamorphic widescreen and Pan&Scan versions, with Dolby Digital 5.1 sound, and the audio/video quality are lovely. For extras, you get a deleted scene, an "HBO First Look" promotional "making of" featurette, a "gag reel" (these are always fun to watch, if you can keep from gagging). There's also an isolated musical score – which is a nice feature – talent files, production notes, and the trailer.
Hanging Up, from Columbia Tristar Home Video
95 minutes, Widescreen (1.85:1), Dolby Digital
Starring Meg Ryan, Walter Matthau, Diane Keaton, Lisa Kudrow
Produced by Laurence Mark, Nora Ephron
Written by Delia Epron and Nora Ephron Directed by Diane Keaton