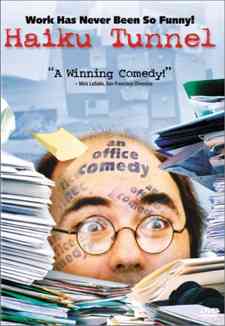 Haiku Tunnel on DVD
By Jim Bray
Get ready for the longest 90 minutes you've spent in your home theater recently.
Haiku Tunnel is billed as an office comedy, but that isn't quite an accurate description.
After all, a comedy generally has a mandate to make you laugh at least once, but neither I nor my wife even came close to cracking a smile during this interminable DVD about a wannabe novelist who makes his living working as a temp in legal offices. Until it was over, that is, at which point we smiled with relief and gratitude.
Josh Kornbluth co-wrote, co-produced, co-directed and stars as Josh Kornbluth, the temp whose life is unfolding just fine, thank you, until his current gig becomes "perm." Josh just isn't cut out for a life of being on time, being competent, being responsible, or (judging from the film) being funny.
Kornbluth also serves as the film's narrator, from an opening monologue to periodic times during the ordeal when the movie stops and we're back in narrator mode. He also does voiceovers during the non-action.
The cast surrounding Kornbluth are two dimensional stereotypes and they're the best thing about Haiku Tunnel. There's the lawyer for whom Kornbluth works, the other secretaries, and assorted other window dressing. And what's Harry Shearer doing in this mess?
What there isn't, as mentioned above, is any sort of humor, though the movie seems to think it's funny.
I dunno. Maybe it's me (and my wife); I've seen some online reviews that claim Haiku Tunnel is a real knee slapper that's "laugh out loud funny." Or maybe these people have been conditioned by laugh tracks in sitcoms and will laugh at anything.
So you'll have to judge for yourself - but don't say we didn't warn you!
The DVD's pretty good - better than the movie warrants. It's presented in anamorphic widescreen (16x9 TV compatible) and the picture quality is very good. The Dolby Digital 5.1 channel surround audio is also up to Columbia Tristar's usual high standards.
Extras include a directors' running commentary (except they should be running away from this flick instead of running on about it!), some deleted scenes, outtakes, directors' notes, filmographies and trailers.
Haiku Tunnel, from Columbia Tristar Home Video
90 min. anamorphic widescreen (1.85:1), 16x9 TV compatible, Dolby Digital 5.1
Starring Josh Kornbluth, Warren Keith, Helen Shumaker, Amy Resnick
Produced by Brian Benson, Jacob Kornbluth, Josh Kornbluth
Written by Josh Kornbluth, Jacob Kornbluth, John Bellucci, Directed by Jacob Kornbluth & Josh Kornbluth.