Gunsmoke on DVD
Gunsmoke was the longest-running TV drama, yet this reviewer managed to avoid it for the entirety of its run.
It isn't that I don't like westerns, but somehow Gunsmoke just fell through the cracks, undoubtedly in favor of Star Trek runs and reruns. It's too bad, because now that I've had a chance to see some of the classic episodes offered in these two boxed sets, I wish I'd bothered with the show way back when.
Each of these volumes contains three discs chock full of shoot 'em up action with Marshall Matt Dillon and his cast of sidekicks. Well, that really isn't fair. There's plenty of action, but Dillon isn't just a trigger happy lawman; he's a dedicated professional who usually tries reasoning with his various nemeses first, but who isn't afraid to let his gun to the reasoning for him if it comes to that.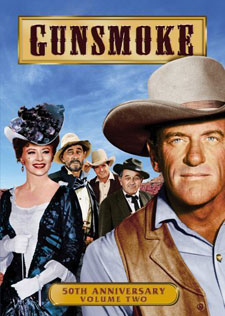 Volume 1 includes 17 entertaining episodes from the first nine seasons, most of which are a half hour in length. We start with the series premiere, complete with its introduction by John Wayne, who apparently suggested James Arness for the lead role. The stories are intelligent as well as being entertaining, and it's a hoot watching the cavalcade of up-and-coming (then) guest stars who pop in and then pop out again. Among the "rogues gallery" are Charles Bronson, Chuck Connors, Aaron Spelling (yes, that Aaron Spelling), Cloris Leachman and Angie Dickinson.
Arness is backed up by Dennis Weaver as Dillon's deputy, Chester, Amanda Blake as saloon keeper Kitty and Milburn Stone as Doc.
Episodes include "The Killer," in which a no good gets his kicks by preying on those weaker than him and "Legal Revenge," in which a woman plots the demise of the man Dillon believes is her husband.
Naturally, you also get a bunch of extras, including many commentaries by Arness, Weaver, Dickinson, Barbara Eden and more. There's also a gag reel, some rare home movies filmed on the set by Dennis Weaver, James Arness as Matt Dillon and Dennis Weaver as Chester on The Ed Sullivan Show, Westerns Channel Gunsmoke Memories, a cast Q&A from the Museum of TV & Radio, Emmy Award footage and more.
Volume 2 includes episodes from seasons 10 through 19, after Weaver had left the series and been replaced by Ken Curtis as Festus. On the three discs are 12 episodes including "Treasure of John Walking Fox", "The Wrong Man", "A Quiet Day in Dodge" and "Trail of Bloodshed."
As with volume one, you get commentaries by various characters, stars and guest stars including Ed Asner and Bruce Dern and Arness gives a short introduction before episodes. There's also a set of bloopers and gag reels, Amanda Blake on The Mike Douglas and David Frost Shows, Gunsmoke Memories, Emmy Award footage and more.
Picture quality of the DVD's is very good considering the age and original source of the material. It's in 1.33:1 full screen, of course, so if your 16x9 TV is prone to burn in you'll want to stretch/zoom it to fill the screen.
Audio is Dolby Digital mono and is fine.
How long before there's a big screen adaptation?
Gunsmoke, from Paramount Home Entertainment