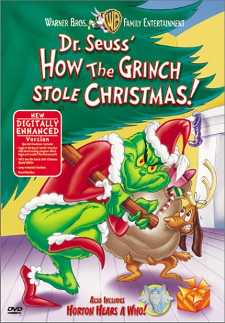 Dr. Seuss' How The Grinch Stole Christmas
Chuck Jones Rocks!
Unless you're a Grinch yourself, it's practically impossible not to love this television classic.
By now we all know the story of the Grinch, who lives on Mount Crumpet, just North of Whoville. He hated the Whos oh so very much, and hated their singing, and their love of Christmas. So he decided he had to find a way to stop Christmas from coming.
Then The Grinch got an idea. He got an awful, nasty idea. He would disguise himself as Santa Claus, and sneak into Whoville and steal Christmas. So me made himself a Santa costume, and made himself a reindeer. Then he slid down Mount Crumpet on his sleigh, snuck into the Who's houses, and took everything from the stockings - right to the roast beast.
But on his way home, something happened. He realized that Christmas doesn't come from a store. Maybe, just maybe, it means a whole lot more.
This half hour long cartoon is one of the best things about Christmas. I remember I would always check the TV guide for months before, just to see if it was on. Boris Karloff is the perfect choice to narrate, and provide the voice of The Grinch. Chuck Jones's direction is even more perfect, throwing in all his usual trademarks, especially his characters' facial expressions.
Dr. Seuss' How The Grinch Stole Christmas is a timeless classic that is enjoyable for people of all ages. It not only teaches a lesson about Christmas, but it's also a lot of fun.
The DVD is not bad, all things considered. It's presented in 1.33:1 full frame, with Dolby Digital mono. This is not a big deal, considering the show originally aired on television in 1966. Colours are bright, and the animation is appropriately cheesy. The sound is pretty good for mono. I don't know what else to say about it.
The disc also features another half hour Dr. Seuss cartoon, Horton Hears a Who. Nowhere near as entertaining as The Grinch, Horton is still worth a watch, if for no other reason than to once again check out Mr. Geisel's storytelling genius. Aside from Horton, there are some pencil tests of The Grinch and Horton characters, and some interactive menus trivia.
If you're a fan of this classic cartoon, this DVD is a must buy.
Dr. Seuss How the Grinch Stole Christmas, from Warner Home Video