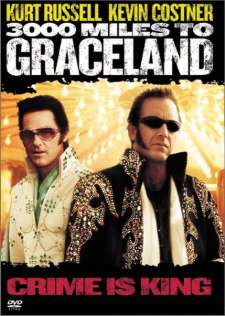 3000 Miles to Graceland
by Johnny Bray
Elvis has left the building - with $3.2 million in stolen loot.
Getting the action started early, 3000 Miles to Graceland has the robbers entering the casino, stealing the cash, and killing several dozen security guards, all within the first 20 minutes or so.
From there, we discover that the movie is about bad people, and worse people, making it hard to decide who to root for. Once the five Elvis's (Elvi) have gotten away with the money, they must battle their worst enemies - each other - in order to keep it. However, since three of the five die very early, it's really only a fight between the two remaining Elvi, and Courteney Cox.
No one, not even the characters themselves, know who's on whose side. This makes it a little difficult to follow the plot at times. The money changes hands so many times it's not funny (well…actually it is, kind of).
The movie is by no means a masterpiece, but if your tolerance for action movies is as high as mine, it's still relatively enjoyable; as long as you can overlook the plot holes, pointless scenes, and bad screenplay. There are some nice action sequences to make up for the shortcomings.
Though it was criticized for being excessively violent (which it is), it's nowhere near as bad as classics like Robocop and Total Recall. It also boasts an all-star cast, which consists of many performances not even worthy of being called cameos. Bokeem Woodbine, Christian Slater, and David Arquette are the other three Elvi, and don't even survive the first half hour. Thomas Haden Church and Kevin Pollak are the cops trying to nab the crooks. The pair has several scenes, but their total screen time is maybe five minutes. Jon Lovitz, Howie Long, and Ice T are also in the movie for a few seconds.
As difficult as it is to say this, the greatest performance in the film actually belongs to Kevin Costner. He plays the heartless bad guy very well - something he should keep in mind for the future.
Unfortunately, it still wasn't enough to prevent the movie from suffering from Kevin Costner Syndrome (that is, bombing at the box office).
Anyway, as long as you're not expecting to be blown away by the sheer brilliance of this movie, it's not as bad as you've probably heard. Yes it's silly; yes it's mindless…but isn't that the formula for an action flick these days?
The picture and sound are fantastic; Warner should be proud of the transfers here. The video is in 2.35:1 anamorphic widescreen, and the audio is in 5.1 dolby surround.
The only extra included on the disc is the theatrical trailer, which really didn't do the movie justice. And of course the interactive menus and scene selection.
3000 Miles to Graceland, from Warner Bros. Home Video
125 minutes, anamorphic widescreen (2.35:1) 16X9 enhanced, 5.1 Dolby Digital
Starring Kurt Russell, Kevin Costner, Courteney Cox, Christian Slater and Kevin Pollak
Written by Richard Recco and Demian Lichtenstein
Produced by Demian Lichtenstein, Eric Manes, Elie Samaha, Richard Spero and Andrew Stevens
Directed by Demian Lichtenstein