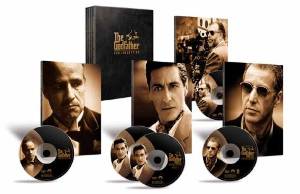 The Godfather Trilogy on DVD
Paramount Makes Us an Offer We Can't Refuse
The first two Godfather movies were the films that really put Francis Ford Coppola on the map. He has made other films, arguably better and worse, but it will be the Godfather and Apocalypse Now for which this masterful director will forever be known.
And with good reason. Apocalypse Now is a masterpiece of cinema, despite its warts, that should be required viewing for any movie student or fan. The Godfather movies aren't as great or innovative technically, but they're still great movies.
And now Paramount has released the entire Godfather trilogy in one five disc DVD set, and it's a nice one. The movies take up the first four discs (Godfather Part II is spread over two discs), with the fifth disc reserved for oodles of interesting extras.
But more about that later.
Despite Part III's general trashing when it came out, it makes an excellent end piece for the story of Michael Corleone, which is actually what the trilogy is all about. Despite Marlon Brando's formidable presence in Part I, and Robert DeNiro's excellent portrayal of the young Godfather in Part II, it isn't really Don Vito Corleone's story. Rather, it's about the rise and fall of Michael Corleone (Al Pacino), a reluctant anti-hero who as a young World War II veteran knows exactly where he's heading in his life - until family ties and responsibilities change his path irrevocably.
When his father, Don Vito (Brando) is gunned down in a mafia hit, the only strategy left to the family (and which is suggested by Michael) is for Mike to gun down Virgil Solozzo (Al Lettieri) the mobster involved and his corrupt cop escort (Sterling Hayden). This forces Michael to break off his engagement to Kay Adams (Diane Keaton) and enter the family business, something he did reluctantly because it was necessary in order to save the family itself.
He goes to Sicily to hide out while a gang war erupts back home in New York City. While there he falls in love and marries a local girl - but the reach of his enemies is long and she is killed in a missed attempt on Michael's life.
Once back in the USA, the baton of family power is passed to Michael, the new Don Corleone, and he vows to himself to take the family from the criminal element to legitimacy.
But first he has a few scores to settle, and this is done with dispatch, so to speak.
Part II interweaves a new plotline (Michael as Don) and parts of the original book (the Young Vito Corleone, as played by DeNiro) that didn't make it into the first movie. The DeNiro sections document Vito's flight from Sicily, establishment in New York, and his rise to become Don. It's good stuff, and DeNiro - as usual - plays the part beautifully. Vito sees his rise to criminal power not only as an opportunity for profit, but an opportunity to see justice is done is his little part of the world.
Meanwhile, Don Michael has moved the family away from New York to a beautiful compound on Lake Tahoe in Nevada, close to the family's new business empire of casinos and hotels. A businessman first and mafiosa second, Michael looks to make deals, resorting to violence only when necessary but unleashing it mercilessly when he deems it necessary. His new deals involve holdings in Cuba, just as the government is overthrown and Castro comes to power and he escapes from the island by the skin of his teeth.
Old habits die hard, and Michael's business associates still live and die by the old school of mafia conduct. This leads to attempts on the lives of Michael's family that force him to take the appropriate retaliation.
A subplot involves a Congressional investigation into organized crime and Michael is in danger of being put away for perjury if not for some lucky connections.
Part III picks up about twenty years later. Lake Tahoe has been abandoned and the Corleone family is back in New York, but as a legitimate and extremely lucrative enterprise. Michael seems to have made his dream of a legitimate family come true, though at the cost of his wife and kids and much else that he loved.
His past continues to dog him, however, and every time it appears he's made a clean break from his criminal past he gets dragged kicking and screaming back in. His enterprises involve becoming a huge multinational cartel and the plot weaves together business and religious intrigue, crime, love of family, salvation and retribution.
In some ways this is the best of the three installments, though most critics will probably not agree. But it takes the Godfather saga from that of being merely the recounting of a famous crime family and turns it into an American tragedy that's really quite moving.
All the actors in all three parts are terrific, and Pacino is especially wonderful in all three movies, but he's particularly outstanding in Part III where he appears as the aging Don, obviously not in the best of health and carrying the weight of the world on his shoulders.
Part III also ties up a lot of the threads started in the first two films, and in the end we're left with an image of the futility of everything for which Don Michael had lived and fought.
But enough about the movies, how about the DVD's?
Well, for the most part Paramount has done an excellent job of handling the transition. All three films are presented in anamorphic widescreen video (16x9 TV compatible) and all feature newly remastered Dolby Digital 5.1 audio.
The video quality is good for the most part, though not excellent (we believe they're true to the original cinematic version, however, which is very atmospheric in appearance). Part III is, surprisingly enough since it's by far the newest of the trilogy, the most spotty and has many scenes that exhibit quite a bit of grain. The sound quality is very good; the remix is well done, though there isn't a lot of surround.
Then there are the extras. Not only is there an entire disc of goodies, but each film features a full length running commentary featuring Coppola himself.
Disc Five features "The Godfather Family: A Look Inside," which is an original featurette from 1971. You also get deleted footage, including the scenes that were originally stuck into the re-edited "The Godfather Saga" videocassette release from 1977. Then there's "Francis Coppola's Notebook," a collection of Production Stills and storyboards, a section on Gordon Willis' cinematography, Nino Rota and Carmine Coppola's music, and Francis Ford Coppola himself.
Not enough yet? Fine. You also get info on the films' locations and the screenplays, footage culled from some of the rehearsal sessions, a "Corleone family tree" and "Godfather timeline) and some footage of acceptance speeches made by the films' Oscar winners.
One final word of congratulations to Paramount, something you may not notice at first but which we feel is a wonderful feature: each film starts directly upon insertion of the disc. Yessiree! There are no annoying menus to sit through or navigate if all you want to do is watch the film.
The menus are there, but you have to access them deliberately. This is great. We've had more than enough of exotic menus that are really pretty examples of the technology, but which are ponderous and pretentious at best.
Way to go, Paramount!
The Godfather Trilogy, from Paramount Home Video
725 minutes in total, Anamorphic widescreen (1.85:1), 16x9 TV compatible, Dolby Digital 5.1
Starring Al Pacino, Marlon Brando, Robert DeNiro, Diane Keaton, Talia Shire, Robert Duvall, James Caan, Lee Strasberg, Joe Mantegna, Andy Garcia, Eli Wallach and many others.
Produced by Albert S. Ruddy, Francis Ford Coppola,
Written by Mario Puzo and Francis Ford Coppola, Directed by Francis Ford Coppola.