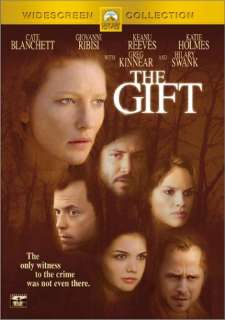 "The Gift" on DVD
Cate Blanchett is Annie Wilson, a widow and single mom who makes her living as a tarot card reader cum amateur psychologist.
She really can see things, though, and when the tramp fiancee of a local teacher (Greg Kinnear) is murdered she helps guide police to her body. The corpse is found on the property of a local redneck thug, Donnie Barksdale (very well-played by Keanu Reeves), who's also the abusive husband of one of Annie's clients (Hilary Swank).
It appears to be an open and shut case once it's discovered that Reeves' character had been having an affair with the dead woman (Katie Holmes) and appeared to be the last person to have seen her alive. But, upset with Annie's "witchcraft" and the influence she had on his wife, he had also threatened Annie and her children, which calls into doubt her already paper thin credibility about using her gift to help find the victim.
After all, what if Annie had killed the girl to frame the man who was wreaking so much havoc on her own life?
The Gift is a well-crafted and told thriller from director Sam Raimi and co-writers Billy Bob Thornton and Tom Epperson. It's dark and moody and has a couple of places that'll really make you jump. Unfortunately, we'd figured out (well, guessed) who the murderer was about two thirds of the way through "The Gift," but that still didn't spoil our enjoyment of the film as a whole.
The Gift has very good performances from all the cast. Blanchett is alternatively strong and vulnerable, and very believable. Reeves gets the award for best performance here, though, because his character is so different from what he usually plays, and he plays it very well.
The DVD is in anamorphic widescreen, 16x9 TV compatible, with Dolby Digital 5.1 sound and the audio and video quality are first rate. Don't be fooled by the quote on the box that says the film is a "sexy, twist-a-minute thriller," because there isn't a lot that's really sexy in this film, despite its occasional nudity and sexual situations. And the thrills don't come every minute, which is good: when you need them they're there, but you don't get beaten over the head with them.
Extras on the disc include cast /crew interviews and a music video "Furnace Room Lullaby" performed by Neko Case and her Boyfriends.
The Gift, from Paramount Home Video
111 min. anamorphic widescreen (1.85:1),16x9 TV compatible, Dolby Digital 5.1 audio
Starring Cate Blanchett, Giovanni Ribisi, Keanu reeves, Katie Holmes, Kim Dickens, with Greg Kinnear and Hilary Swank
Produced by James Jacks, Tom Rosenberg, Gary Lucchesi
Written by Billy Bob Thornton and Tom Eperson, Directed by Sam Raimi.