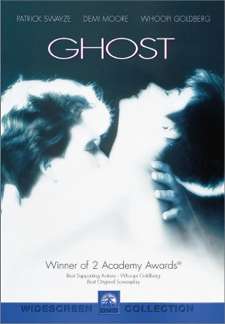 "Ghost" on DVD
Love Conquers All
A little bit romance, a little bit thriller, a little bit horror and a little bit comedy: that's "Ghost."
While it sound like such a lack of focus is a recipe for a real mishmash, in the hands of script writer Bruce Joel Rubin and director Jerry Zucker all the various "genres" coalesce around each other to form an entertaining whole.
Sam and Molly (Patrick Swayze and Demi Moore) are deeply in love. Sam's a successful financial dude who dies mysteriously then, caught in a middle stage between life and afterlife, comes back with a warning to Molly.
He reaches her through a reluctant medium (Whoopi Goldberg, who won the Best Supporting Actress Oscar for her performance) who acts as the go between between here and the hereafter.
This is the movie that brought the Righteous Brothers' "Unchained Melody" to prominence again, in a wonderfully romantic and sexy scene between Swayze and Moore, both of whom turn in excellent performances. Swayze is particularly fine, whether mourning his lost love or learning to "live" and function as a ghost. Goldberg is also very good, though we aren't sure her performance was actually "Best Supporting Actress" material.
Ghost does a really nice job of balancing the various facets of its personality and in the end is a terrifically satisfying movie - and you'd best keep some tissues around for those times between laughs and chills when you'll be moved to tears.
Jerry Zucker does a fine job of directing his first big screen "non-comedy," and anyone worried about how he'd handle a film more serious than "Airplane!" or "The Naked Gun" needn't be concerned.
The DVD is presented in widescreen, 16x9 TV compatible, and with Dolby Digital 5.1 surround audio. The quality of the picture and sound is very good. Extras include a running commentary from director Zucker and writer Rubin, as well as a really interesting retrospective feature "Remembering the Magic." Naturally, you also get the trailer.
Ghost was a sleeper hit when it came out and even ten years later it works its magic in the new digital medium.
Ghost, from Paramount Home Video
127 min, widescreen (1.85:1), enhanced for 16x9 TV's, Dolby Digital 5.1
Starring Patrick Swayze, Demi Moore, Whoopi Goldberg
Produced by Lisa Weinstein
Written by Bruce Joel Rubin, Directed by Jerry Zucker