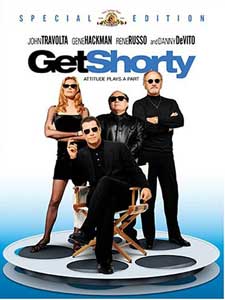 Get Shorty, SPECIAL Edition, on DVD
You have to love a movie like this.
There isn't really a likeable character in this tale of a Miami loan shark who comes to Hollywood and muscles his way into the movie industry, yet on one level you can admire John Travolta's character. Chili Palmer is supremely self confident, has a dream and works to make it a reality. And he's honest about who he is and what he wants to accomplish.
Then there are the supporting characters, nasty pieces of work like second rate movie director Harry Zimm (Gene Hackman), vain movie star Martin Weir (Danny DeVito), Miami thug Ray "Bones" Barboni (Dennis Farina), and second rate starlet Karen Flores (Rene Russo). There's nary a redeeming quality among them, and they all become involved in Chili's life and quest in one way or another.
As Chili assimilates Hollywood his first movie is actually the story of the movie we're watching. And Chili learns that being a producer isn't much different from being a loan shark, but darnitall if he doesn't get his movie made!
It's all a great send-up of Hollywood, wheeler dealing, all the legends (or is it stereotypes) associated with tinsel town, and it combines to make for a very enjoyable couple of hours.
The new high-definition sourced DVD is great. The anamorophic widescreen picture (16x9 TV compatible) displays some grain, but overall is very satisfying, with natural color and nice detail.
Audio is your chose of dts or Dolby Digital 5.1 and they sound very good, realistic, with nice separation.
The two disc set includes a commentary by director-producer Barry Sonnenfeld and you even get a ticket to see the sequel Be Cool if get there before March 25, 2005.
But of course that isn't all. Featurettes abound:
• "Get Shorty: Look at Me"
• "Get Shorty: Wiseguys and Dolls"
• "Deleted Graveyard Scene"
There's also a selection of outtakes, a party reel, photo gallery, trailer, a little booklet and more.
This flick was obviously re-released on DVD to cash in on and promote the sequel Be Cool, but at least they've given value for the dollar with a good DVD set that offers a fine transfer of the feature and enough extra stuff to keep fans happy.
Get Shorty, Collector's Edition, from MGM Home Entertainment
105 min. anamorphic widescreen (1.85:1, 16x9 TV compatible), Dolby Digital 5.1
Starring John Travolta, Gene Hackman, Rene Russo and Danny DeVito
Produced by Danny DeVito, Michael Shamburg, Stacy Sher
Written by Scott Frank, directed by Barry Sonnenfeld