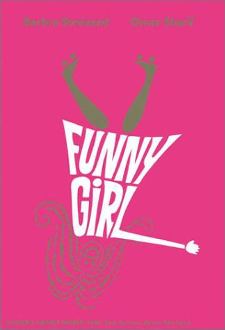 Funny Girl on DVD
Barbra, Before the BS
By Jim Bray
Say what you will about Barbra Streisand, she can sing and she can act. If only she'd stick to it and quit while she's ahead…
Funny Girl won her a well-deserved Oscar for her role as stage star Fanny Brice during her rise to superstardom in the Zigfeld Follies. Of course it probably doesn't hurt having William Wyler behind the camera, but one shouldn't minimize Streisand's contribution to this story, with which (among other things, alas) she will be forever identified.
The film opens with Fanny as a Follies wannabe, having just been hired on by a lower grade competitor to sing in the chorus. But Fanny can't just be a chorus girl; she doesn't think she's pretty enough and her natural comic tendencies rise to the surface in a self lampooning manner that singles her out from the crowd.
These tendencies also get her noticed by Florenz Zigfeld himself (Walter Pidgeon), who hires the young comedienne for his Follies. Fanny still can't do it by the book, however, and her version of the assigned musical number (in which she once again lampoons herself) is an instant hit with the audience, forcing Zigfeld to either fire her and lose a bright new star or give her way and eat his own crow.
Fanny prevails, and her career is off like a rocket.
Ah, but if only her personal life were as good. She doesn't really have any beaus, though a handsome gambler named Nick Arnstein (Omar Sharif) seems smitten with her and looks her up every time he's in town.
Eventually this romance blossoms and they eventually marry (after the intermission and the Act One showstopper/finale "Don't Rain on My Parade"). But this blessed event creates new problems: Nick now has responsibilities that, due to his up and down gambling life, he may not be able to meet - and he now has a famous wife whose very name keeps him in a spotlight he hates.
A bittersweet tale of star crossed love, Funny Girl is a triumphant movie musical. The songs are good, though with a couple of exceptions they aren't really Rogers and Hammerstein memorable, and the production numbers are excellent. Streisand is fabulous as Fanny, Sharif is excellent as Nick, and the rest of the supporting cast, particularly Pidgeon and also Kay Medford and Mae Questel as Fanny's anchors with reality.
The DVD is from a restored version of the film, and it shows. The anamorphic widescreen picture glows for the most part, with rich colors and a sharp image better than some films made more recently. The audio has been mixed into Dolby Digital 5.0 (which means you get all the main channels, but no subwoofer info, and you won't really miss it) and for the most part it sounds excellent. We noticed a few passages that were a tad shrill, but on the whole Columbia Tristar has done a great job here.
Extras include the featurette "Barbra in Movieland" and "This is Streisand", as well as some song highlights, filmographies, production notes and trailers.
A fine job on a fine musical.
Funny Girl, from Columbia Tristar Home Video
155 min. anamorphic widescreen (2.35:1), 16x9 TV compatible, Dolby Digital 5.0
Starring Barbra Streisand, Omar Sharif, Kay Medford, Anne Francis, Walter Pidgeon
Produced by Ray Stark
Written by Isobel Lennart, Directed by William Wyler.