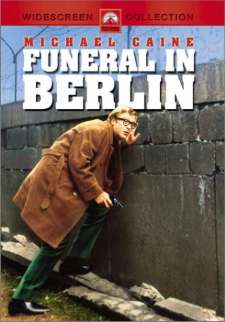 Funeral in Berlin on DVD
Raising Caine in the Communist Bloc
Michael Caine is agent Harry Palmer in this "James Bond-ish" spy thriller that's actually better than most of the Bond flicks.
It has a lot in common with the early Bond flicks that featured Sean Connery, including its emphasis on script and character than action for action's sake. In fact, there's very little action in "Funeral in Berlin," so if that's what you like in a spy flick you'd better look elsewhere.
It's also produced by Harry Saltzman, who co-produced the early Bond film, and directed by Bond alumnus Guy Hamilton (whose best Bond outing was "Goldfinger," perhaps the best Bond outing there was), and is based on the novel by Len Deighton.
Palmer is more civil servant than secret agent - he just happens to have a gig that's a little more, shall we say exciting? - than the average bureaucrat. Despite that, he knows his job and tackles it with professionalism and, it seems at time, gusto. He relies on his wits more than his fists - and "Q's" gadgets, and his wit alone is reason to watch this film.
This mission sees him sent to Berlin to help a high profile communist defect to the West. The assignment takes him to both sides of the Berlin wall, from the flourishing West to the seedy and dilapidated East. Rather than give away the reasonably complex plot, suffice it to say that things don't go as planned, and nothing appears to be as it appears to be.
Confusing enough for you? Good.
The performances, from Caine to Oscar Homolka and the rest of the supporting players, are first rate and the requisite "love interest" (or is she something more?) is the absolutely lovely Eva Renzi.
The DVD looks good in its anamorphic widescreen incarnation, with appropriately grainy (it actually enhances the mood) but eminently watchable video and its Dolby Digital mono (alas, directed to the main front speakers) sounds good as well - with surprisingly good bass.
Extras are limited to the trailer, unfortunately.
This is the second of three Harry Palmer films. The first was "The Ipcress File," and the final entry was "Billion Dollar Brain."
Funeral in Berlin, from Paramount Home Video
102 min. anamorphic widescreen (1.85:1), 16x9 TV compatible), Dolby
Digital mono
Starring Michael Caine, Paul Hubschmid, Oscar Homolka, Eva Renzi
Produced by Charles Kasher (a Harry Saltzman Production)
Written by Evan Jones, Directed by Guy Hamilton.