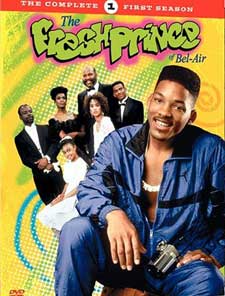 The Fresh Prince of Bel-Air: The Complete First Season
By Johnny Bray
I was ten years old when The Fresh Prince of Bel-Air first went on the air, and it was the greatest thing in the world.
A year or so earlier, my older brother had gotten his hands on a copy of "He's the DJ, I'm the Rapper" featuring such classic tunes as "Parents Just Don't Understand" and "Nightmare on My Street." Both my brother and I became exceptionally large fans of DJ Jazzy Jeff and The Fresh Prince, so when we learned that the latter was getting his own TV show, we were more than a little excited.
And when it became obvious that we were the target demographic for the show, it became one of the select few programs that was an absolute must-see.
Will Smith plays Will Smith, a.k.a. The Fresh Prince. After getting in a small fight in hometown Philly, his mom sends him to live with his wealthy Uncle Phil in Bel-Air. Philip Banks is a working man, a family man, and a no-nonsense kind of man. When fresh-faced Will shows up in his homey G gear talkin' smack and threatening everything Uncle Phil holds dear, the otherwise textbook TV family gets stirred up.
Will may not be what they're used to, but he's family and he means well. Even if he doesn't wear sweater vests and speak like a sophisticated English butler, he's a good kid who just needs a good opportunity.
The humor in Fresh Prince doesn't hold up all that well over the years. It's true I found myself laughing at several of the jokes and situations, but many of them I think were more because I remember finding them funny the first, second, and third times around. The show can sometimes get really, really preachy about the importance of family and loving each other no matter what; exactly what ten-year-old boys like hearing about. It's a wonder I didn't get sick to my stomach. But it also places an importance on just being yourself, something young'uns everywhere should pay attention to.
More than anything, the reason the show works is because of the cast. Will Smith is a charismatic leading man (which may be the deciding factor in his becoming one of the biggest movie stars in the world today), and while his acting chops needed a little fine-tuning in 1990, his comic timing has always been bang-on. James Avery brings a stereotypical "this is gonna hurt me more than it hurts you" dad kind of approach. Janet Hubert-Whitten is the loving mom whom you better not tick off – be you husband, son, or some random Joe. Alfonso Ribeiro and Karyn Parsons play Carlton and Hillary, the spoiled older siblings, to perfection, almost as though the parts were written specifically for them. Finally, Joseph Marcell plays the wisecracking, bitterly cynical butler Geoffrey to perfection.
Although the back of the box claims this is a 2-disc set, the 24 Season One episodes are actually spread across four discs, and include: The Fresh Prince Project; Band the Drum, Ashley; Clubba Hubba; Not With My Pig, You Don't; Homeboy, Sweet Homeboy; Mistaken Identity; Def Poet's Society; Someday Your Prince will be in Effect; Kiss my Butler; Courting Disaster; Talking Turkey; Knowledge is Power; Day Damn One; Deck the Halls; Lucky Charm; The Ethnic Trip; The Young and the Restless; It Had to be You; Nice Lady; Love at First Fight; Banks Shot; 72 Hours; Just Infatuation; Working it Out
Warner Bros. has pulled out all the stops on this one. Each episode is presented in its original aspect ratio of 1.33:1 and (gasp!) Dolby Digital mono. The picture looks only slightly better than it would have during its original run, with dust and grain and an overall very aged appearance. Dialogue sounds very muddy (and also aged), hindered more by the laugh track, which overpowers everything.
The only extra included is the retrospective documentary "Back to Bel-Air: A Fresh Look." It features interviews with series creators Andy Borowitz & Susan Borowitz, director Debbie Allen, various writers, and cast members James Avery, Tatyana Ali and Joseph Marcell. Running a whopping 16 minutes, nobody really gets a chance to say anything of real interest, but it's nice to hear what people have to say 15 years after the fact.
The Fresh Prince of Bel-Air, from Warner Bros. Home Entertainment
588 minutes, full screen (1.33:1), Dolby Digital mono
Starring Will Smith, James Avery, Janet Hubert-Whitten, Alfonso Ribeiro, Karyn Parsons, Tatyana M. Ali, Joseph Marcell
Created by Andy Borowitz & Susan Borowitz