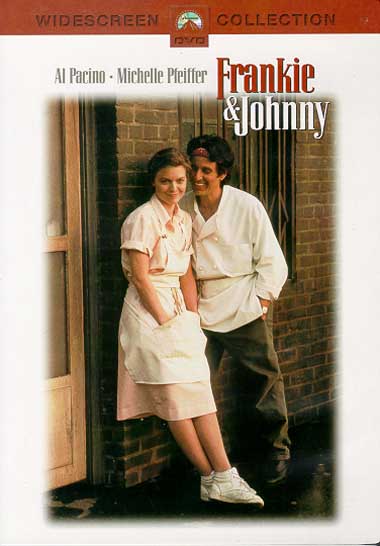 Frankie and Johnny on DVD
A Real Sweetheart?
A sweet romantic comedy, Frankie and Johnny doesn't have a lot of belly laughs, but it's humorous nonetheless and has many good moments in it.
Johnny (Al Pacino) is a short order cook just released from prison who wants to make something of his life and Frankie (Michelle Pfeiffer) is a waitress afraid of commitment (how's that for a reverse stereotype?), working in the same restaurant that hires Pacino. He falls for her almost immediately and sets his sights on a relationship that's the last thing Frankie wants right then.
From there on to the final couple of moments, Frankie and Johnny recounts the tale of the immovable object (Frankie) under the influence of the irresistible force (Johnny).
Both of these people are desperately lonely, though only Pacino (who, as usual, is terrifically believable as the romantic lead) realizes it about both of them. After all, Frankie has friends and a life, and enough bad experiences with heterosexual males to be wary and reluctant to get drawn into another potentially bad relationship.
But Johnny won't go away and in spite of herself, Frankie begins falling for him - only to have his pushiness turn her off and cause her to push him away.
In the end, love conquers all, naturally, and it looks as if the two will live happily ever after.
Pacino's Johnny is an intelligent, worldly man whose character and brainpower are partially hidden behind his conman past and crusty New Yawk exterior. But there's a scene near the beginning, where he hires a hooker to merely "spoon" with him, that clearly shows what he's all about. Unfortunately, Frankie isn't around to see it…
Frankie's prison is of her own making, and he doesn't have the guts to throw open the cell and fly freely into a new life - until Johnny practically forces her to face herself, him, and a potential new life.
Pfeiffer is very good as Frankie, though it's hard initially to get over these two movie stars working in a low end diner, while Hector Elizondo, Kate Nelligan and Nathan Lane lead lead an excellent supporting cast.
The DVD is presented in anamorphic widescreen, 16x9 TV compatible, and the picture is very good. It's a tad soft in places, which actually works to its advantage and is undoubtedly intentional on the part of director Garry Marshall, but the colors are vivid and bright, giving an almost postcard-like look to the video.
Audio is Dolby Digital 5.1 surround, though there isn't a lot of surround. The sound quality is good, though.
Unfortunately, Paramount has seen fit to only include the theatrical trailer as an extra with the disc.
Frankie and Johnny, from Paramount Home Video
117 min. anamorphic widescreen (1.85:1), 16x9 TV compatible, Dolby Digital 5.1
Starring Al Pacino, Michelle Pfeiffer, Hector Elizondo and Kate Nelligan
Written by Terrence McNally, based on his play
Produced and directed by Garry Marshall.