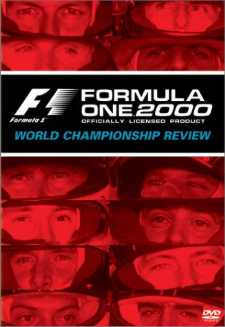 Formula One 2000
Getting Your DVD Player on Track
We had high hopes for this disc, even though we prefer the CART series to F1, and for the most part it delivers.
There's something like four hours of F1 action, covering each race of the Y2K season that saw Michael Schumacher deliver Ferarri's first constructor's championship in some twenty years.
Okay, so we were rooting for Villeneuve, but we knew he didn't have a chance….
The disc is set up showcasing the individual races; you choose the race you want to experience vicariously and then decide if you just want to watch the highlight reel or partake of the interactive version that gives you track side views, onboard cameras, pit cams, or "real time" data updates. If you're a true fan you'll probably watch it all…
The best way to do it, of course, is in chronological order from the opening race to the season ender in Malaysia. The coverage is pretty good, though we'd have liked to see an extra category where you can keep track of the season itself, with running points totals and the like, but this disc handles the season as only separate races.
Also, you don't get any qualifying footage, pre-race interviews or news and none of the back room politics that are, unfortunately, such an important part of F1.
We're also a bit confused by the packaging. The disc is said to offer anamorphic full screen video, whatever that is. What you get is standard full screen video, which isn't necessarily bad but which is definitely a lot different from widescreen. Picture quality is all over the map, due to the variety of cameras and angles (it isn't surprising - nor is it unforgivable - to find a bit of jiggle from the on board cameras, for instance!).
The audio is Dolby Digital 5.1 and the quality ranges from very good to irrelevant (but mostly good). The interactive interface lets you change views on the fly, which is nice.
All thing considered, this is a good attempt, but we'd like to see far more from subsequent releases, like an overall documentary on the season as a whole, from which you can branch out to other facets of the season that may interest you.
And please, try to make the next one truly anamorphic! We watched the disc on a 57" rear projection widescreen HDTV monitor, which we had to put into zoom mode to fill the screen. The on car camera shots were a real rush, but because of the zooming they were pixilized, something that wouldn't happen with a real anamorphic widescreen signal.
Formula 1 2000, from Columbia Tristar Home Video.