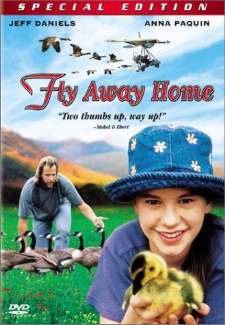 "Fly Away Home" on DVD
Dreams Take Flight
Based on a true story, Carroll Ballard's "Fly Away Home" could be used to illustrate the term "heartwarming" in the dictionary.
Anna Paquin is Amy Alden, who at the movie's opening survives a car accident in New Zealand that kills her mother. Her Canadian father (played by Jeff Daniels) comes to the land of the Kiwi to bring her home to live with him again, setting up a predictable set of conflicts between the estranged 13 year old and the father she scarcely knows.
What brings them together is a clutch of Canada goose eggs she mothers but who, being wild, will eventually want to fly the coop and make their way South for the winter. Together, Amy and her inventor/artist father devise a plan to teach the geese to follow Amy as she flies an ultralight aircraft, leading them to a chosen wintering grounds in the U.S.
The film mostly follows the training, both of teaching Amy to fly and the geese to fly with Amy. The conflict in the film, besides the initial angst between Amy and her dad, are provided by an "evil" fish and game bureaucrat who wants to follow the rule book and clip the geese's wings to prevent them from flying - and near the end a typically stereotypical evil and blackhearted businessman who wants to build on the land where the geese will spend their winter.
Ballard, who also directed "The Black Stallion" and "Never Cry Wolf," has a flair for this type of film and, true to form, "Fly Away Home" is a beautiful movie. The look and feel are glorious, and they've picked the most beautiful time (autumn) to showcase Southern Ontario's colorful tapestry of changing tree leaves.
Paquin is very good as Amy, the sad little girl who finds happiness and meaning in her life. Daniels, who's always good, is always good here as well and Dana Delany also turns in a good performance, though she's mostly wasted here in what's basically a fairly small part.
Despite a couple of "light handed" (as opposed to heavy handed) descents into anti-corporate and authority political correctness, this is a marvelous movie that makes you feel really, really good.
Columbia Tristar's Special Edition DVD is full of extras and is itself a delightful package. The audio and video are digitally mastered, with Dolby Digital 5.1 surround sound (though there isn't a lot of surround) and anamorphic widescreen (16x9 TV compatible) video. Picture and sound quality are excellent.
Extras abound, starting with a decent liner note essay and a running commentary track from director Ballard and cinematographer Caleb Deschanel (who worked with Ballard on the gorgeous "Black Stallion"). There's also an isolated, Dolby Digital 5.1 track of the film's ultimately forgettable musical score, with commentary by composer Mark Isham.
And that isn't all. You also get an HBO Special "Leading the Flock," a documentary called "The Ultimate Geese", filmographies and trailers.
In all, this is a family-friendly feel good flick - and we mean that in a good way!
Fly Away Home, from Columbia Tristar Home Video
108 min. anamorphic widescreen (1.85:1), 16x9 TV compatible, Dolby Digital 5.1
Starring Jeff Daniels, Anna Paquin, Dana Delany, Terry Kinney
Produced by John Veitch and Carol Baum
Written by Robert Rodat and Vince McKewin, Directed by Carroll Ballard.