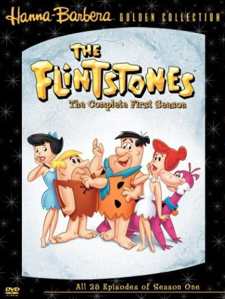 The Flintstones: The Complete First Season
The phrase "a modern stone-age family" accurately describes the irreverence that is (was) The Flintstones. How can you be a modern stone-age family? That's just ridiculous. Even for a cartoon.
Now, with all sarcasm aside, we can remember watching The Flintstones right before The Jetsons, every single lunch hour in elementary school. It wasn't the best show on TV, but it was entertaining nonetheless. I doubt there's a single person alive over the age of twelve that doesn't know The Flintstones. Fred, Wilma, Betty, Barney, Dino, Bam Bam and Pebbles.
This four-disc set follows the very first adventures of the group, and features the entire first season, including the long lost pilot episode.
Upon watching The Flintstones now, it doesn't take long to realize the show doesn't hold up as well as an adult. As early as the first episode, the show failed to hold my attention, and by the end of the 28 episodes I just wanted it to stop. It still features a few laughs here and there, but probably only an average of one good chuckle per show. Although, you can come up with some good drinking games, such as taking a drink every time Barney does his laugh, or every time Fred shouts "Yabba Dabba Doo!" (though we don't condone that kind of behavior!).
Barney is easily the funniest character (or most amusing, at least), and if it weren't for him, the show probably wouldn't have garnered many laughs at all.
If you're feeling particularly nostalgic, the first season of The Flintstones is probably the kind of thing that will appeal to you. But keep in mind that it just doesn't seem as good now. Best to check out a few episodes first, then decide if you want to buy.
Each episode is presented in full screen with Dolby Digital mono. Color and detail look pretty good, but it's easy to tell how old the show is. They've done the best they can with the audio, but the dialogue sounds a little muffled in several of the episodes.
Extras include a history of The Flintstones that you would expect to be a full-length documentary, but is less than five minutes long. "Wacky Inventions" is another short chronicling the, well, wacky inventions on the show. "The Flagstones" lost pilot is at least interesting to see, and we also get some early TV commercials and some network promo spots.
It's not all that glorious, but The Flintstones are finally on DVD.
The Flintstones, from Warner Bros. Home Entertainment
737 minutes, 1.33:1 full screen, Dolby Digital 2.0 mono
Created and executive produced by William Hanna & Joseph Barbera