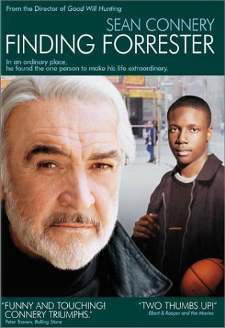 Finding Forrester on DVD
The Write Stuff?
Sean Connery is reclusive writer William Forrester in director Gus Van Sant's film.
Connery is a famed writer studied in classrooms, even though he only wrote one book before deciding to chuck it all and live in seclusion in his New York City Apartment.
The story is as much about Jamal Wallace, however. He's a sixteen year old black kid living in a dead end, but who has marvelous potential academically and as a basketball player. He comes to the attention of a prestigious school who offer him a "win-win" scholarship that'll allow him to explore his mind while helping the school win at basketball.
Along the way, through a childish stunt, he comes into contact with Forrester who, after their initial angst with each other, becomes a mentor to the teenager. It ends up being a two way street, however, as Jamal begins to peel away Forrester's reclusiveness, helping him to once again experience the world outside the walls of his apartment building.
Connery is very good as the writer; it's a much more quiet and human role than many of his larger than life characters, and he pulls it off well. Rob Brown, a newcomer, is also very good as the teenaged Jamal.
Strong supporting characters are played by F. Murray Abraham, as a rather unlikable teacher of whom Jamal runs afoul, and Anna Paquin, as the rich girl who sees beyond the stereotypes to find the real person who is Jamal.
The story if fairly predictable, but it works overall and you really do end up rooting for Jamal and Forrester, both of whom experience considerable growth as people over the course of the film.
This is a far better film than "Good Will Hunting" which, though the two films share certain themes, tended more towards beating the audience over the head.
The DVD is presented in anamorphic widescreen, 16x9 TV compatible, and Dolby Digital 5.1 channel audio. Picture and sound quality are excellent. Extras include an HBO "Making of" featurette, another featurette on the film's young star Rob Brown, deleted choir scenes, talent files, a decent production notes essay inside the box, and the trailer.
Finding Forrester, from Columbia Tristar Home Video
136 minutes, widescreen (2:35:1), 16x9 TV compatible, Dolby Digital 5.1
Starring Sean Connery, Rob Brown, F. Murray Abraham, Anna Paquin, Busta Rhymes
Produced by Laurence Mark, Sean Connery and Rhonda Tollefson,
Written by Mike Rich, Directed by Gus Van Sant.