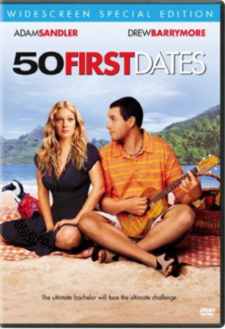 50 First Dates on DVD
For the first time since 1997's The Wedding Singer, Adam Sandler teams up with Drew Barrymore for a lighthearted romantic comedy that does a good job of combining funny stuff with mushy stuff.
Henry Roth (Sandler) has a great life as a marine mammal veterinarian, spending every night with a beautiful tourist in search of a one-night-stand in paradise. But he's the "typical male," fearing commitment and not wanting to grow up.
One day he stops for breakfast in a local diner, and he sees Lucy (Barrymore). Initially he feels he wants to have a fling with her, but soon realizes he longs for more.
Things get more complex when he approaches her a second time, only to discover that she apparently doesn't remember him. As it turns out, Lucy suffers from short-term memory loss; she's unable to transfer new memories into old memories. So she lives every day exactly the same (because every day she thinks it's the same day), unaware of her predicament.
Henry's not used to having to work for a girl, but he's up to the challenge. If he has to woo Lucy every day for the rest of their lives, so be it.
The biggest problem seems to be coming up with new ideas every day.
Can Henry get around Lucy's affliction and the two of them still live happily ever after? Probably, or else we don't have much of a movie.
As a typical Adam Sandler movie, 50 First Dates offers a few good laughs but strikes a few wrong notes as well. You can't help but think a few jokes would work better had they done them another way, but there are still enough good ones to keep things moving along.
Sandler and Barrymore have excellent chemistry, although the movie isn't nearly as cute and cuddly as their previous effort. Sean Astin (Samwise Gamgee from The Lord of the Rings Trilogy) turns in a likeable supporting performance, and what Adam Sandler movie would be complete without Rob Schneider playing a quirky foreigner?
It's not the best Sandler movie to date, but fans of his earlier films will probably find enough in 50 First Dates to keep them entertained for 99 minutes. Likeable characters, great chemistry, and some good chuckles make it worth checking out.
The DVD is presented in 2.40:1 anamorphic widescreen, and the picture quality is better than most movies of this type. The colors are sparkling and the detail is extremely sharp, with no dust or grain or halos. The lush tropical backgrounds also feature glorious color and detail. The audio comes in Dolby Digital 5.1 and the quality is fairly typical of this kind of film. The dialogue and sound effects are distributed evenly between the front channels, and while the surrounds don't get a lot of use, we did notice a couple of the musical numbers and bits of the score using them quite effectively.
The audio commentary by director Peter Segal and Drew Barrymore is a bit of a letdown. While they do talk almost continuously, much of the "information" is redundant and uninteresting. Barrymore is certainly charming, but Segal is considerably less so.
Three featurettes entitled "The Dating Scene," "Reel Comedy Special" and "Talkin' Pidgin" total about 50 minutes, and are a lot better than most featurettes of this type. "Pidgin" focuses on Hawaiian slang, while the other two are basic "making-of" bits, but are much better than usual.
The batch of deleted scenes is pretty good, but it's easy to see why they were cut. They include more of Henry trying to win over Lucy, and Lucy freaking out when she finds out about her affliction. Seven minutes of outtakes, three music videos, and a multitude of trailers are also included.
50 First Dates, from Columbia Tristar Home Entertainment
99 minutes, anamorphic widescreen (2.40:1) 16x9 enhanced, Dolby Digital 5.1
Starring Adam Sandler, Drew Barrymore, Rob Schneider, Sean Astin and Dan Aykroyd
Produced by Jack Giarraputo, Steve Golin, Nancy Juvonen
Written by George Wing
Directed by Peter Segal