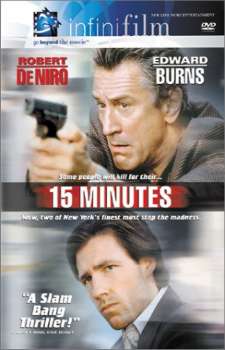 "15 Minutes" on DVD
by Johnny Bray
Andy Warhol pretty much nailed it when he said that everyone will be famous for 15 minutes. What he didn't mention, however, is that some people will do just about anything for theirs.
Such is the case in 15 Minutes, a very well-written thriller from writer/director John Herzfeld.
Emil and Oleg are fresh out of jail in Europe. Now they've come to the States to collect some money from a friend of theirs. Unfortunately, upon arriving, they find out that their "friend" has already spent all the money. Oleg (Oleg Taktarov) has a bit of a temper, and doesn't take this too well. He ends up brutally killing his friend and his wife, and sets out to find the witness to make sure she doesn't say anything.
Emil (Karel Roden), wanting to be the next Frank Capra, videotapes the entire thing. In fact, he videotapes everything they do, hoping to sell the tape for some big bucks. And maybe even sell the book and movie rights.
From there, the two develop a zany scheme to get away with everything they've done. If they get arrested, they'll just plead insanity and end up in a psycho ward. Once there, they say they were only kidding about the whole "insane thing," and because of the Double Jeopardy law, a person can't be tried for the same crime twice. Bada-bing-bada-boom, they're free.
Eddie Fleming (Robert De Niro) and Jordy Warsaw (Edward Burns) are two of New York's finest detectives, and it's up to them to catch the criminals. Both are superb in their roles, but amazingly, as big a de Niro fan as I am, he is outdone by Burns. Burns plays the arson investigator who gets in over his head perfectly. Kelsey Grammar co-stars as Robert Hawkins, the TV tabloid reporter who is interested in nothing but ratings. Sounds to me like every other TV tabloid reporter.
What's most frightening about the movie is that something like this would actually work. Not only is the film commentating on the effects of the media in making people famous, it's also commentating on the leniency of the justice system. Even though it's a tad hypocritical, it's point comes across very strongly. A movie like this really makes you think.
It's a little graphic and violent, but if you ask me (and even if you don't), that helps to get the point across. Herzfeld really thought this movie through before going ahead with it. I personally think it's the most underrated film of the year, and I highly recommend it to people who like movies with a brain.
New Line's new "Infinifilm" Series delivers top-notch picture and sound quality, as well as a shipload of extras. The 2.35:1 anamorphic widescreen and 5.1 surround sound are of the highest quality. Once again, New Line delivers the goods.
There are three "sets" of features in the Infinifilm series. First is the "Beyond the Movie" features. These include two documentaries: 15 Minutes of Tabloid Stars and Does Crime Pay?, both of which have some interesting interviews and perspectives on the topics in the movie. There's also a "Fact Track," which is a lot like VH1's Pop-up Video. A bunch of facts scroll across the screen like subtitles. In this case, though, the facts are actually relatively interesting.
The "All-Access Pass" features focus on the film itself. There's a feature-length audio commentary with John Herzfeld, deleted scenes (which are actually pretty good) with optional commentary, "Oleg's Videos" - video footage captured from the actor's perspective, a music video and the theatrical trailer.
The third set of features is the DVD-Rom features. They include script-to-screen access, a link to the original website, and exclusive access to online Infinifilm features.
15 Minutes, from New Line Home Entertainment
121 minutes, anamorphic widescreen (2.35:1), 16X9 enhanced, 5.1 surround
Starring Robert de Niro, Edward Burns, Kelsey Grammar, and Avery Brooks
Produced by David Blocker and John Herzfeld
Written and Directed by John Herzfeld.