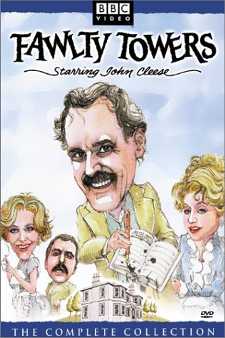 Fawlty Towers on DVD
The Cleese Shop Sketch
Anyone who fancies himself a fan of British comedy will know about John Cleese and Connie Booth's sitcom masterpiece, one of the funniest series ever created.
And now the whole shebang, all twelve episodes plus extras, are on DVD in one collectible set that's a must have for fans of Basil, Polly, Sybil, Manuel and the rest of the hotel's resident spirits.
Yes, friends, it's all here: the first season with Lord Melbury, O'Reilly's renovations, the wedding party, Hotel inspectors, Gourmet Night (Any sign of the duck?) and the German invasion - and the second season's deaf dowager, the psychiatrist (oh, so you're three doctors?), the Waldorf salad, the kipper and the corpse, Basil and Sybil's anniversary, and the Rat inspector (no, is hamster!).
And they look great, with the caveat that the high resolution of the DVD format shows up any flaws of these mostly video taped (with some exterior filmed segments) productions, which means in places the colors are a tad smeary. On the whole, however, it's a wonderful collection and it's much better to have a sharp and slightly smeary, smarmy Basil than the really inferior picture and sound you'd get from VHS.
And don't forget that these TV-based images are not anamorphic widescreen: they're in their original 4x3 aspect ratio.
The audio quality is also very good, though monaural.
Then there are the extras. There are directors' commentaries that run with the episodes, and very good interviews with creator/star Cleese, stars Prunella Scales and Andrew Sachs. There's also a quick visit to Torquay, setting for Fawlty Towers. It's interesting, but we expected more. It profiles a hotelier who was Cleese' inspiration for Basil; there's also a quick look at the wreckage of the building that was the actual exterior location of Fawlty Towers, but both of these so called documentaries are pretty short and superficial.
The interviews are very enjoyable, however, which makes up for the docs.
You also get a "who's who" guide to the show's stars, some all-too-brief outtakes and a bit more, like clips from the show arranged by topic.
The interface is pretty good, with mercifully short menu transitions. You can watch the episodes all the way through in one swell foop, each episode individually, or access individual scenes.
We would rather have seen this three disc set structured differently. They've put four episodes, plus extras, on each disc, which means the six episode series are broken up on disc two. Why not have each series on its own disc, with the extras on the third?
Oh well, that's pretty nitpicky criticism when in reality we're just glad this classic comedy has finally made it onto DVD.
Fawlty Towers, The Complete Collection, From BBC Video
Approximately 500 min. full screen video (4x3), not 16x9 TV compatible, Dolby Digital mono
Starring John Cleese, Prunella Scales, Andrew Sachs, Connie Booth
Written by John Cleese and Connie Booth
Produced and directed by John Howard Davies, Douglas Argent, Bob Spiers.