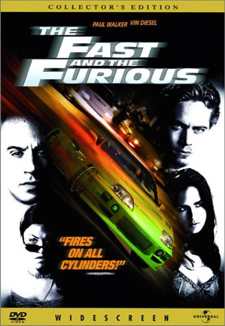 The fast and the Furious on DVD
Speed Demons
This flick easily falls into the "guilty pleasure" category. It's big and loud and brash, an homage to horsepower dressed up as a cop movie, and it's fun.
A Los Angeles cop (Paul Walker) goes undercover into the world of street racing to uncover the perpetrators of a series of major electronics heists. These thefts were made in daring fashion by people in a trio of souped up Honda Civics, so Brian O'Connor (Walker) gets a job in an auto parts aftermarket shop and, armed with a hot little Mitsubishi, throws his wrench into the street racing ring.
He soon befriends and is befriended by Dominic Toretto (Vin Diesel) an ex-con who's popular in the street racing circle. He's the immediate suspect, because of his record, but as he gets to know him O'Connor learns to like this guy, who appears to be trying to turn his life around, and doesn't believe he's behind the robberies.
His associates don't agree, however; Brian's suspicions point one way, but the powers that be need more than suspicions - and the truckers who are being robbed are about to take the law into their own hands, putting a sense of urgency onto the case that forces Brian to take some rash action in his pursuit of the truth.
But forget about the plot. The movie's about wheels, speed, and babes, and as predictable and ultimately vacuous as it is, we ended up being highly entertained in a mindless sort of way.
The cars are great, the audio (except for the pounding synth music that proves we're probably too old to be watching movies like this) and video are great, and the end result is an enjoyable 107 minutes of popcorn munching entertainment.
Our demonstration DVD was one of those horrible Universal screener discs with disclaimers all over the picture for most of the movie, and this cuts down considerably on one's enjoyment. Despite that, we found the anamorphic widescreen picture's quality to be superb, with rich colors and razor sharp images. The audio track, which was Dolby Digital 5.1, is also wonderful, with excellent bass and great overall tone.
This DVD is supposed to be full of extra material, but there was none on our screener copy so we can't really tell you about it.
The Fast and the Furious, from Universal Home Video
107 min. anamorphic widescreen (2.35:1), 16x9 TV compatible, Dolby Digital 5.1
Starring Paul Walker, Vin Diesel, Michelle Rodriguez, Jordana Brewster, Rick Yune
Produced by Neal H. Moritz
Written by Gary Scott Thompson and Erik Bergquist and David Ayer, Directed by Rob Cohen