Fantastic 4 – Extended Edition
Another re-release timed to cash in on the release of a new sequel, the Fantastic 4 Extended Edition is still a worthwhile DVD, especially if you didn't buy the first version.
Fantastic 4 is another Marvel comics franchise that made the transition to the big screen. The first 4 movie was no Spidey, but it was okay – and we noticed that when we watched the extended version we enjoyed it more than the original version. Whether this was just because we got more out of a second viewing or that the new version is that much better we can't be sure, but we did like this new version, though we got a bit tired of all Ben Grimm's angst. Our favorite character was Johnny Storm (played by Chris Evans), who brought some much-needed humor to help counterpoint the real downer who is Grimm.
And of course the disc is loaded with extras – and it also uses branching technology to let you watch either version of the film so you can decide for yourself which one you like the best.
Here's how Fox describes the new DVD:
After exposure to a radioactive cosmic storm endows a team of four astronauts with incredible superpowers, they become the most remarkable, albeit dysfunctional, super heroes of all time – the Fantastic Four! Unfortunately, the sponsor of the mission that created them reveals his own transformation into a lethal, iron-fisted super-villian named Dr. Doom – setting the stage for an explosive confrontation of epic proportions.
The Fantastic Four Extended Edition two-disc DVD boasts over four hours of new bonus features including nearly 20 minutes of never-before-seen footage seamlessly branched back into the film, plus a feature-length "Making Of" documentary, six additional behind-the-scenes featurettes, new audio commentary, and more! As an added bonus for fans, the Fantastic Four Extended EditionDVD will also include a Movie Money coupon good for one free admission (up to $8.50) to Fantastic Four: Rise of the Silver Surfer.
Disc One
U.S. Theatrical Version
Cast Commentary by Ioan Gruffudd, Jessica Alba and Michael Chiklis
Commentary by director Tim Story, writers Michael France and Mark Frost, producer Avi Arad and executive producer Kevin Feige
Seamlessly Branched Extended Cut
Commentary by director Tim Story, writers Michael France and Mark Frost, producer Avi Arad and executive producer Kevin Feige
19 extended/deleted scenes
Two alternate Main Title sequences
Fantastic Four: Rise of the Silver Surfertrailer
Silver Surfer featurette
Trailers
TV Spots
Disc Two
Heroes Are Born: Making Of Fantastic Four documentary
The Baxter Building: Declassifiedfeaturette
The World's Greatest Comic Magazine featurette
Jack Kirby: Storytellerfeaturette
From Comic Book to Filmfeaturette
Multi-Angle Animatic-to-Scene Study
Fantastic Four hit by cosmic storm
Brooklyn Bridge
Ben hits Johnny
Reed and Doom fight
Johnny chased by missle
The Thing and Doom fight
Visiting the Stately Ross Museumfeaturette
Collectibles Gallery (50 stills)
Stills Gallery
Behind the Scenes
Character Sculpts
Characters
Concept Art
Costumes
Human Torch Flame Tests
That's a lot of stuff!
Even better, the movie(s) is presented in anamorphic widescreen, 16x9 TV compatible, and the picture quality is simply splendid, with great sharpness and detail and excellent color. Audio is offered in both dts and Dolby Digital 5.1 surround, which is nice to see, and the overall quality is also very good.
So if you have to get a "cash in" disc, you could do worse.
Fantastic 4 Extended Edition, from 20th Century Fox Home Entertainment
125 min. Anamorphic widescreen (2.35:1, 16x9 TV compatible), Dolby Digital and dts 5.1 surround
Starring Ioan Gruffudd, Jessica Alba, Michael Chiklis, Chris Evans,
produced by Avi Arad, Kevin Feige
Written by Mark Frost and Michael France, directed by Tim Story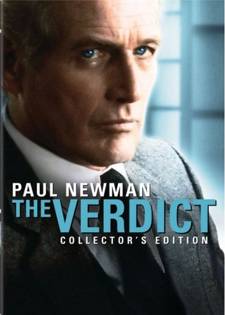 Fox is also rereleasing two Paul Newman classics: The Verdict and The Hustler, both in new special editions. We watched the new Verdict and were quite impressed. Not only is it a good movie, but the disc quality is very good as well, and Fox has really piled on the extras.
Here's Fox's (edited) description of both new DVD's:
All-new two-disc sets include The Verdictand The Hustler. Both all-new two-disc Collector's Editions are packed with a wealth of bonus features. The Verdictincludes commentary by Paul Newman and Sidney Lumet, "Paul Newman: The Craft of Acting," "Sidney Lumet: The Craft of Directing," "Hollywood Backstory: The Verdict," "Milestones In Cinema History: The Verdict" and more. The Hustlerincludes the documentaries "Paul Newman: Hollywood's Cool Hand Luke," and "The Hustler: The Inside Story," shot demonstrations, scene breakdowns, commentaries and much more.
A tour-de-force character study of an alcoholic lawyer seeking redemption and meaning through a high-stakes case, the taut and engrossing The Verdict was written for the screen by David Mamet (Glengarry Glen Ross) and directed by Sidney Lumet (Serpico). Newman's portrayal of Jack Galvin is ranked #19 on Premiere Magazine's 100 Greatest Performances of All Time and Roger Ebert said of the film "It's that Newman performance that stays in the mind."
In The Hustler, Newman plays Fast Eddie Felson, an up-and-coming pool player out to make a score against a long-time champion. Ebert said of the performance, "There are only a handful of movie characters so real that the audience refers to them as touchstones. Fast Eddie Felson is one of them."
Celebrating its recent 45th anniversary, The Hustler remains an unforgettable depiction of the cold, hard reality of the pool hall, populated with stellar supporting performances by Piper Laurie (Carrie), George C. Scott (Patton) and Jackie Gleason ("The Honeymooners") as Minnesota Fats. Newman is one of only four actors to be nominated for an Oscar twice for playing the same role in two separate films and Fast Eddie won him the Best Actor award in 1986 for The Color Of Moneyin which he reprised the famous role opposite Tom Cruise.
DVD SPECIAL FEATURES
The Verdict is presented in widescreen (2.35:1), with English Stereo and Mono sound, as well as
French Mono. Bonus material includes:
Commentary by Paul Newman and Sidney Lumet
"Paul Newman: The Craft of Acting"
"Sidney Lumet: The Craft of Directing"
"Hollywood Backstory: The Verdict"
"Milestones In Cinema History: The Verdict"
" Making Of" featurette
Still gallery
Theatrical trailer
The Films of Paul Newman trailers
The Hustler is presented in widescreen (2.35:1) with English Stereo and Mono, French Mono and Spanish Mono. Bonus material includes:
"Paul Newman: Hollywood's Cool Hand Luke"
"The Hustler: The Inside Story"
"Life In The Fast Lane: Fast Eddie Felson And The Search For Greatness"
"Milestones In Cinema History: The Making Of The Hustler"
"Swimming With Sharks: The Art Of The Hustle"
Shot demonstrations & scene breakdowns
Opening Scene Demonstration
Six in the Corner
Eddie Makes A Cross Corner Combo Shot
Fast Eddie One Ball in Corner Pocket
Massey Shot
Commentary by Paul Newman, Carol Rossen (Robert Rossen's Daughter), Dede Allen (Editor), Stefan Gierasch (Actor), Ulu Grosbard (Assistant Director), Richard Schickel (Film Critic, Time) and Jeff Young (Film Historian)