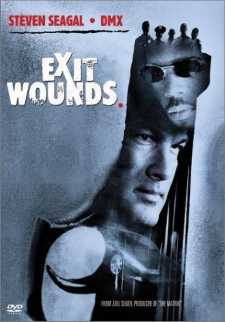 Exit Wounds
Action, for Action's Sake?
by Johnny Bray
Exit Wounds is a typical action movie. Nothing more, nothing less. An aging Steven Seagal stars as Orin Boyd, one of the only honest cops in the entire city of Detroit. He always does the job, even if it means breaking a few laws in the process. So, I guess he's not all that honest after all. He is, however, the good guy. One day, after single-handedly thwarting an army of political assassins, he's sent to the 15th precinct. The 15th, apparently, is a really bad one to be in. So that's the thanks he gets for doing a good job.
Sounds like a union gig.
Once there, he meets DMX, Isaiah Washington, Anthony Anderson, Michael Jai White, Bill Duke, Jill Hennessy, and Tom Arnold. Unfortunately, he's not sure who he can trust, and who it is he's trying to uncover. There are some attempts at plot twists, but they're way too predictable and out of place to be effective. An all-out action movie like this should stick to being an all-out action movie.
Directed by Andrzej Bartkowiak (Romeo Must Die), Exit Wounds does feature some well-done action sequences. But Seagal is getting older and becoming much less impressive. Most of his fight scenes are short and not as physical as we're used to seeing. I'm not sure what Bartkowiak's obsession is with casting pop/rap artists in his movies, but he needs to realize that there are very few people out there who are good at both music and acting. DMX, though I've never heard his music, should probably stick to it.
I must admit a slight bit of bias on my part. The opening action sequence was shot right here in my hometown, so I probably enjoyed it a bit more than I would have otherwise. My guess is that the movie isn't as good as I thought it was.
It's a typical action flick, plain and simple. Decent, but by no means great.
The picture and sound are good, with 2.35:1 anamorphic widescreen and 5.1 dolby digital sound. Extras include a behind the scenes documentary, a DMX music video, a day on the set with Anthony Anderson, and the trailer.
Exit Wounds, from Warner Bros. Home Video
101 minutes, anamorphic widescreen (2.35:1) 16X9 enhanced, dolby digital 5.1
Starring Steven Seagal, DMX, Isaiah Washington, Anthony Anderson, Michael Jai White and Tom Arnold
Screenplay by Ed Horowitz and Richard D'ovidio
Produced by Joel Silver and Dan Cracchiolo, Directed by Andrzej Bartkowiak