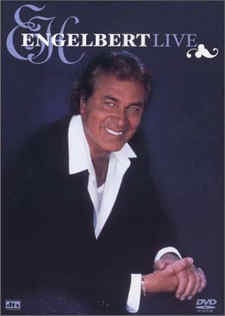 Engelbert Live on DVD
Engelbert Humperdinck has been crooning his hit tunes since the 1960's, and though he doesn't have the electric stage persona of some performers, he still manages to put on a good show as witnessed by this DVD.
It's a flawed disc, alas - for example it isn't offered in anamorphic widescreen, but it does offer fans a good glimpse of the man in action, and at rest through its fascinating profile of the entertainer.
Yet we were disappointed. Oh, sure, the man can sing, and his live show is entertaining if not a tad sterile - but it was the song selection that disappointed us. While we freely admit to being out of touch with Humperdinck's library since sometime in the early 1970's, we had expected - and wanted - to hear some of the songs that made him the star he is.
We get a couple, for instance "Release Me" and "After the Lovin'" - the first of which was his first Really Big Hit and the second of which was a big hit long after he was a star. But how about "The Last Waltz," "Man Without Love" or "Les Bicyclettes de Belsize?" These were among our favorite Humperdinck songs, yet they aren't here.
Instead we get an admittedly fine collection of standards, well orchestrated and sung, but not what we really wanted to hear.
Oh well, they say you should always leave the audience wanting more, and that's exactly what happened with this concert. Yet it wasn't just that we wanted more, we were frustrated at not getting what we thought would be Humperdinck standards, not just "standards" such as Can't "Take My Eyes Off You" or "The Shadow of Your Smile."
Too bad.
Here's a listing of the tracks included in this show:

Love Is a Many Splendored Thing,
Can't Take My Eyes Off You,
Stranger in Paradise,
Per el Amor de una Mujer (I Knew that We Have Loved Before),
Nothin' a Little Love Won't Cure,
Portofino,
(Sittin' on) The Dock of the Bay,
Release Me,
The Shadow of Your Smile,
Smoke Gets in Your Eyes,
I Apologize, Too Young,
Secret Love,
Malaguena,
No Other Love,
When I Fall in Love,
Quando Quando Quando,
After the Lovin',
Such a Night,
Yours,
Unchained Melody,
Ave Maria
Video quality, despite it being in the 4:3 full frame aspect ratio that means owners of 16x9 TV's will have to stretch/zoom it to fill their screens, is fine. Audio quality is also good. It's presented in Dolby Digital 5.1 and dts surround, though we've heard concerts that make much better use of the rear channels to make you feel a part of the audience. Still, it's the music that's the most important and the recording of the orchestra and vocalists is very good.
Extras include the abovementioned interview/feature, which gives a nice look at Humperdinck and his life off the stage (and he comes across as a very decent, regular guy). You also get a photo gallery.
Engelbert Live, from Eagle Vision
120 min. full frame (4:3, not 16x9 TV compatible), Dolby Digital and dts 5.1 surround