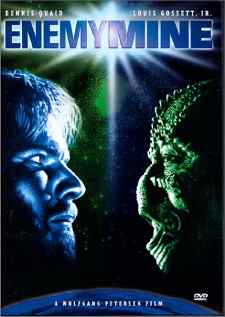 "Enemy Mine" on DVD
Love, Alien Style
Lizard-like alien Louis Gossett Jr. comes face to face with his mortal enemy from Earth (Dennis Quaid) in this Wolfgang Petersen outing.
Both protagonists, who are in the middle of a space battle, end up crashing on a hostile planet and are forced to rely each other in order to survive. Over time, they learn to overcome their differences and end up becoming the best of friends.
Kind of an "interstellar buddy film," though that doesn't really do the film justice, Petersen has served up a pretty warm and fuzzy film. That isn't necessarily a bad thing here, however. The message is that once you know your enemy he doesn't have to be your enemy any more; a great message, as long as both sides are listening!
The film features an alien birth, a death, and an adoption, but to tell you any more than that might color your enjoyment of the film.
Gossett turns in a particularly good performance from behind his alien mask (not that Quaid's a slouch), and the production design, effects, and direction move this a notch above the mundane syrup into which it could have descended.
Having only two actors on screen for most of the movie is a pretty big risk to take, lest the audience get terminally bored, so one has to give the producers credit for guts.
The DVD is presented in anamorphic widescreen, 16x9 TV compatible, with Dolby Digital 5.1 audio. Extras include some behind-the-scenes stills, the trailer.
Enemy Mine, from 20th Century Fox Home Video
110 min, widescreen (2.35:1), 16x9 TV compatible, Dolby Digital 4.0
Starring Dennis Quaid, Louis Gossett Jr.
Produced by Stephen J. Friedman
Written by Edward Khmara, Directed by Wolfgang Petersen.